Verne Gay looks back at an eventful two decades for David Letterman and his late-night TV chat show.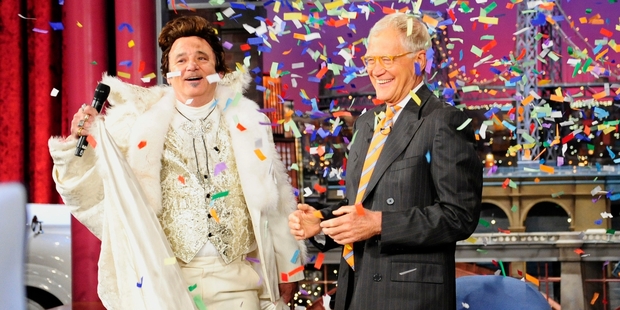 The Late Show with David Letterman, which screens nightly on Prime in New Zealand, is turning 20. Here's a list of the 20 most memorable moments in its time on air from the Ed Sullivan Theatre in New York.
Aug 30, 1993: First guest Bill Murray - who'll be back on tonight's episode dressed as Liberace - spray-painting "Dave" on the host's desk. Other first guests are Billy Joel, Tom Brokaw and Paul Newman.
Sep 8, 1993: Vice-President Al Gore wears goggles and smashes ashtrays. It was all in the service of comedy, but the absurdity of the screen grab - a goggle-wearing Vice-President wielding a hammer - did not help politically.
Feb 14, 1994: Dave's mum, Dorothy Letterman, joins the show as, umm, Dave's mum, and interviews Hillary Clinton.
Mar 31, 1994: Madonna discusses sex and the various parts of her body that are used to that end. She is heavily edited throughout - 13 times, in fact - which may be why the only recollection I have is of one long bleep.
May 13, 1994: After a week of airing the show from L.A., Johnny Carson, in his last TV appearance, closes it all down. He walks out, presumably to do a Top 10, but takes Dave's seat. He says not a word for 30 seconds, then leaves. "That was great," Letterman said. "That was great."
Apr 12, 1995: Drew Barrymore hops on the desk, dances and flashes Letterman, who doesn't seem to mind in the least.
Oct 28, 1996: That salute to manager Joe Torre and the New York Yankees after their first World Series win in 15 years.
Jun 5, 1997: Farrah Fawcett meanders aimlessly through the byways of her mind, confounding all while establishing herself as a late-night television legend.
Jan 12, 2000: Hillary Clinton, after enduring six years of Letterman torments and taunts, submits to an interview (she was running for senator).
Feb 21, 2000: Letterman makes a triumphant return after his quintuple bypass and has his medical team in attendance, in what may be the most memorable show of them all.
Sep 17, 2001: The return after 9/11, with a succinct summation of the horror: "We're told that they were zealots fuelled by religious fervour. ... And if you live to be a thousand years old, will that make any sense to you?"
Oct 30, 2002: The entire edition is devoted to musician Warren Zevon - then diagnosed with mesothelioma - who performed and spoke of what he'd learned in life. (He died in 2003.) Still probably the best hour of The Late Show.
Nov 4, 2003: "Last night at 11:58, I became a father."
Jan 31, 2005: The Johnny Carson tribute edition; per Dave, "At the end of the day, that's who you wanted to be there" - which is how many Americans feel about Dave.
Dec 1, 2005: Oprah Winfrey finally appears, ending what popular culture had decided was a "feud". Dave is even nice: calling her "the most beloved woman in America - despite the fact she gave us Dr Phil".
Jun 6, then Jun 15, 2009: Letterman makes a pair of lame jokes about Bristol Palin. (Example: She was "knocked up" by A-Rod at a game.) He's forced to apologise.
Sep 21, 2009: President Barack Obama becomes the first sitting President to do the show. Letterman hits 5000 shows in late-night TV mark three days later.
Oct 1, 2009: Millions of jaws drop as Dave admits to multiple office affairs and relays a wild story about an extortion plot gone bad. The apologies came later in the week.
Oct 29, 2012: There is no audience because of uninvited guest superstorm Sandy. Eerie silence pervades the Ed Sullivan Theatre.
Apr 9, 2013: Lindsay Lohan is asked, "How will this time be different? What are they rehabbing?" She responds: "We didn't discuss this in the pre-interview, I'm just saying to everyone."
TV profile
What: The Late Show with David Letterman
When and where: Prime TV, 11.10pm tonight
- AAP