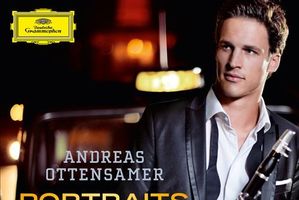 Andreas Ottensamer's Portraits introduces the young Austrian clarinetist alongside the Rotterdam Philharmonic Orchestra under Yannick Nezet-Seguin.
The CD is a cluster of concertos, with trimmings in the form of three lollipops artfully packaged in the arrangements of Stephan Koncz.
The opening Gershwin Prelude is now a sparkling rumba, with Ottensamer taking licence from the famous glissando that opens Rhapsody in Blue to slip and slide whenever the spirit takes him. The three larger works are more problematic. Copland's 1948 Concerto pits Ottensamer against just strings and harp, opening with the clarinet conveying tenseness in its cool, open-air melody. The jazz-fired cadenza is more hospitable territory, and the second movement is resolutely perky.
Here, there is the agility that one might expect of a 24-year-old man who recently marked the end of a successful Australian tour by posting a photograph of himself on Facebook, in a mid-air somersault on a Sydney beach.
Cimarosa's C major Concerto, better known in its oboe form, was patched together by the Australian composer Arthur Benjamin. There is some beautiful playing here, particularly in the lower chalumeau register, but also a wiriness at the start of the Siciliana that makes one long for an oboe's more pungent voice.
Clarinetists are fond of Louis Spohr (1784-1859) as he wrote two concertos, as well as other shorter pieces. However, Ottensamer's agile and musicianly First Concerto, marred only by key clatter in Spohr's mechanical Finale, reveals the threadbare inspiration of its composer.
Angela Hewitt limits herself to Mozart on her new disc, working through the composer's concertos and now offering two works in G and B flat major, K 453 and 595. The Canadian's liner notes bristle with information and opinion. She points out how a pet starling gave Mozart a lead in one theme and how we should look beyond the seeming sunshine of what would be his last concerto finale.
Hewitt delivers exquisite pianism, in divine partnership with the Orchestra da Camera di Mantova under Hannu Lintu, music to be enjoyed to the last crisp staccato and gracefully fading cadence.
Andreas Ottensamer
Portraits (Deutsche Grammophon)
Stars: 4/5

Angela Hewitt
Mozart: Piano Concertos Nos 17 and 27 (Hyperion)
Stars: 5/5
Verdict: Two concerto collections offer the zest of youth and the assurance of experience.