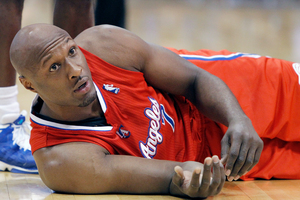 Lamar Odom's driving licence has been suspended for one year following his drink driving arrest.
The basketball star - who has been accused of cheating on his wife Khloe Kardashian and allegedly taking crack cocaine - was stopped by the California Highway Patrol in his white Mercedes SUV at 3.25am on Friday and as a result will not be allowed to drive for one year.
Public Information Officer Leland Tang said Lamar can reapply in 12 months when he will have to take a written test.
Meanwhile, Khloe, 29, hopes this latest incident will force Lamar to seek treatment.
A source told E! News: "Khloe and the family are urging Lamar to seek treatment.
"Khloe has been trying so, so hard to keep him from hitting a bottom like this. But if this is what needed to happen, then this is what needed to happen.
"Hopefully this will be his wake up call."
According to a report compiled by the Los Angeles County Sheriff's Department, Lamar, 33, showed "objective signs of intoxication and was unable to perform sobriety tests as explained and demonstrated".
He was booked into Van Nuys prison at 5.01 am before posting $15,000 bail and was released at 8.33am.
- Bang! Showbiz