Years of experience have helped Sheffield's Arctic Monkeys produce their most accomplished album yet, writes Scott Kara.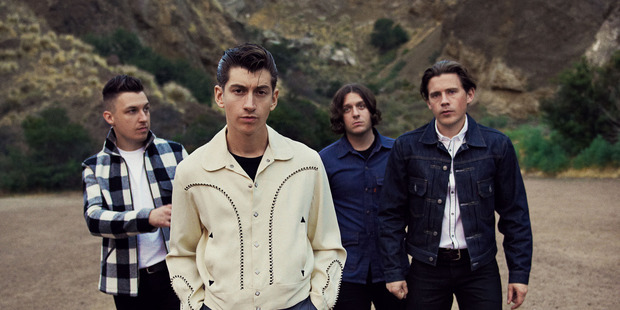 The Arctic Monkeys stopped being so jumped up and musically bratty a few years ago. The thing is, when the Sheffield quartet did, their popularity waned. It happened after the 2009 album Humbug, which was produced by Josh Homme of Queens of the Stone Age.
It was a striking change in sound from the fiery punk and explosive pop-rock-that-you-can-dance-to of breakthrough song I Bet You Look Good on the Dancefloor off 2006 debut Whatever People Say I Am, That's What I'm Not, and the angular rumble of Brianstorm off follow-up Favourite Worst Nightmare.
And it's not that Humbug and last album Suck It and See were not good - just not as danceable and with perhaps a little less of the cheeky and provocative personality of frontman Alex Turner coming through.
"The first album was the biggest and it was downhill from there really," laughs guitarist Jamie Cook on the phone from Los Angeles where the band "spend an awful lot of time".
He's joking, of course, because the Monkeys are still big, headlining Glastonbury this year (their second top billing at the festival), and new album AM (out September 6) is proof they are still one of the most exciting and important British rock bands of recent times.
On it they've got the balance of hooky and wild meets meandering and whimsical just right. It's also their most accomplished and self-assured record to date, which is something Cook puts down to being more experienced.
"When we came to make the record we just knew what we wanted to do a bit more and how to achieve it. Whereas in the early days, we didn't have a clue what to do. And we're over the moon with how it's [AM] turned out," he says in his chatty, laddish Sheffield accent. "There's some great songs, we're really excited, and we just can't wait to get it out and start playing them."
The two opening tracks, Do I Wanna Know? and R U Mine?, were the first songs to emerge for the album. The Black Keys-meets-White Stripes recklessness of R U Mine? was released last year, but for Cook it was Do I Wanna Know? that marked a turning point for the Monkeys, since it was a song unlike any they had written before. With its slow, stomping beat and snakey guitar, it was a tune inspired by being back "out in the desert" like they were for Humbug at Rancho De La Luna in Joshua Tree, California.
"We got out there and we had that riff [to Do I Wanna Know?] and we were really trying to slow it down as much as we could, which was a strange thing for us to do because normally we just blast through it. But as soon as we started playing it, we did a whole lot of new things with drums and hand claps and stuff and thought, 'This is interesting'.
"That became the benchmark track, and once we'd sorted that one we thought, 'Woah, that's different for us', and so we settled in to see where that one would take us."
Then there's the Sabbath-inspired Arabella, with its War Pigs' riff rip-off; No. 1 Party Anthem is a swooning and crooning serenade, and on a more breezy and psychedelic note the fast acoustic strum and thrumming beat of Fireside is another seemingly desert-inspired tune.
Their old American mate Homme does his trademark sweet and strange backing vocals on Knee Socks and One For the Road; Snap Out Of It is the album's poppiest moment, and Turner shows he's still got that out-on-the-town preoccupation and a cheeky turn of phrase on late-night tale and current single Why You Only Call Me When You're High.
"I don't know where he pulls them from sometimes," says Cook. "He comes out with some crackers. And I can't really speak for him but on the last two records his lyrics were, well, you could make what you wanted of them, but on this one I think he wanted to tell stories. But he just cracks me up most of the time."
Also as a backdrop to the recording of this album is the fact the Monkeys are an old band these days even though Cook and bass player Nick O'Malley are the oldest at only 28, with Turner and drummer Matt Helders still both 27.
AM is the band's fifth album in seven years, and Cook points out that songs such as Mardy Bum and A Certain Romance, the last song from the first album, are more than a decade old now.
"You forget that some of those songs are 10 years old, to us anyway. It's quite weird to think back to when you were messing about writing them."
Cook and Turner grew up on the same road in High Green, a suburb of Sheffield, and along with Helders and original bass player Andy Nicholson (who O'Malley replaced in 2006) they played their first show at a venue called The Grapes in mid-2003.
"I have no idea why we work so well together," offers Cook. "I just think we're really close friends and we know how each other works, but I really don't know, we just seem to gel in some way. But if you start looking into it too deeply it might start getting weird."
He laughs, before adding: "We're still enjoying ourselves, you know. And we always said when we stop enjoying it, that's when we'll chuck the towel in. But we still love what we're doing at the minute."
Who: Arctic Monkeys
Line-up: Alex Turner (vocals, guitar, keyboards), Jamie Cook (guitar), Matt
Helders (drums, vocals), Nick O'Malley (bass, vocals)
New album: AM, out September 6
Past albums: Whatever People Say I Am, That's What I'm Not (2006);
Favourite Worst Nightmare (2007); Humbug (2009); Suck It and See (2011)
Follow @nzherald_ent on Twitter for all the latest entertainment news.
- TimeOut