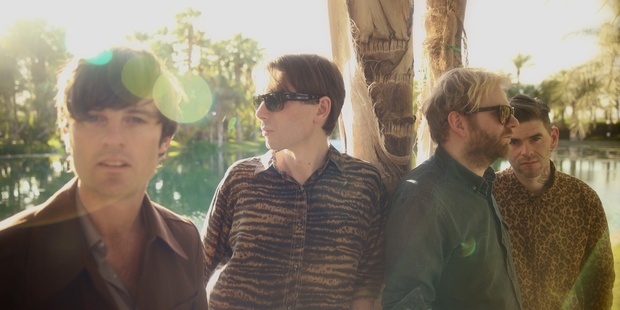 Much has changed since the self-titled 2004 debut of Scottish indie-rock-disco four-piece Franz Ferdinand, but their early hits like Take Me Out left a lasting impression - they were punchy post-punk anthems with sing-along choruses, and part of a British rock renaissance that included the Arctic Monkeys, and Bloc Party.
Now nearly 10 years old, and four albums in, Franz Ferdinand may have lost the easy impact of being shiny and new, but Right Thoughts, Right Words, Right Action is a 10-track collection that's just as classic, and yet fresh, as their first.
It's unfussy, with strong melodies, ideas and guitar hooks, and still feels like an album you can dance to. They didn't seem to earn much radio play with their third album, Tonight: Franz Ferdinand, and its more experimental, synth-driven tones, but Right Thoughts, Right Words, Right Action seems to have a whole clutch of hits ready to roll out.
Bursting the album open is pounding almost-title-track Right Action, with its heady, verging on psychedelic, blend of bouncy basslines, 80s inspired synth flourishes, and gang vocal effects.
They follow that up with Evil Eye - a track which opens with a Thriller-style scream, and has a sly retro vibe, and a joyfulness in it's slightly kitsch use of horror and sci-fi sound effects, including a theremin.
Love Illumination starts off sounding like an up-tempo Black Keys track, and again adds a touch of the 80s with ear-worm synth solo. So far it's three from three in the potential hits category.
They've also managed to steer clear of any generic lyrical material about love or heartbreak (Love Illumination considers a slightly creepy theme about the blurring of dreams and reality) - something the four-piece have always been good at, instead employing perceptive analogies, and dry observations.
The Beatles-esque Fresh Strawberries manages to combine imagery of rotting fruit with crumbling belief systems for example, passing comment on the precarious, brief wonder of youth.
And on the spacey, reflective The Universe Expanded they consider the benefits of a relationship in reverse ("we'll part as happy strangers"). Final track Goodbye Lovers & Friends is tongue-in-cheek, a cynical dissection of easy relationships.
Franz Ferdinand have managed something many bands facing a decade in the charts would struggle with - they've grown, and found a maturity in their work, without losing the energy or thrill of rock'n'roll.
Stars: 4/5
Verdict: Right hooks, right lyrics, right songs, make a classic fourth album.
Click here to buy Right Thoughts, Right Words, Right Action.
Follow @nzherald_ent on Twitter for all the latest entertainment news.
- TimeOut