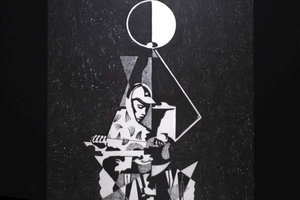 You won't understand him on the first listen. You won't like him until the third. Heck - you probably won't even be able to pick up his thick accent until the sixth spin.
But it's well worth investing time in King Krule because the British teen (real name Archy Marshall) is quickly starting to sound like the voice of a generation. The 19-year-old geezer's debut combines the urban musings of the Streets, the sneer of the Sex Pistols and the swagger of Plan B - and the results make for a genre-bending experience.
"I should've kept my receipts, 'cause the sandwich I bought, yeah it's been off for a week," he rants on the opening fury of Easy Easy, one of several tracks that pokes holes in the monotony of everyday life.
In that, he also earns comparisons to Arctic Monkey Alex Turner and recent revelation Jake Bugg. 6 Feet Beneath the Moon is full of balladeering and intricate, delicate song arrangements, but it's Marshall's voice that really stands out. Grating at first, it becomes a commanding presence on tracks like Foreign 2, which has the haunting atmospherics of the xx, the jazzy stride of Neptune Estate, and the space-age future funk of Ceiling.
He may be aiming for the moon, but King Krule could reach much further than that.
Stars: 4/5
Verdict: Bright future for punk-rock poet.
Click here to buy 6 Feet Beneath The Moon.
Follow @nzherald_ent on Twitter for all the latest entertainment news.
- TimeOut