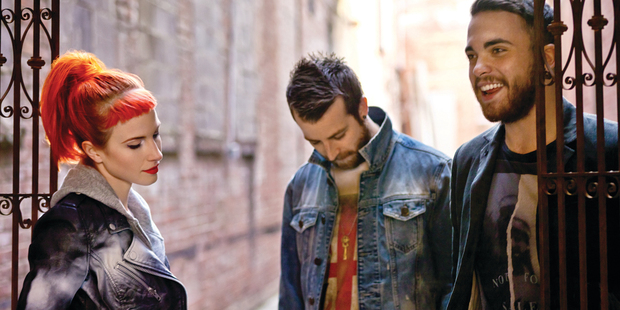 It's been Nashville punk-pop rock band Paramore's biggest year yet following the release of their self-titled fourth album which was No 1 here and in the US - and they return to New Zealand for two shows in January.
"We're so excited to finally come back to New Zealand. No lie, it's one of our favourite places in the entire world.
"We can't wait to see all of our P-more family at the shows and just party," said singer Hayley Williams in a special message to the band's Kiwi fans.
The band, who performed here twice during 2010, play Auckland's Vector Arena on January 19 and Christchurch's CBS Arena January 21.
Paramore has been the band's most successful album to date, following 2005 debut All We Know Is Falling (released when Williams was still only 17), 2007 breakthrough Riot!, and 2009's excellent Brand New Eyes.
TimeOut gave the latest album five stars when it was released in April saying "not only is it the band's best album yet, it's ambitious, sounds grown-up and lifts Paramore out of the purely pop-punk realm".
Current single Still Into You has been a permanent fixture on the singles charts and on high rotate on radio, and new single Ain't It Fun, with its funk-rock tendencies could just be their biggest song to date.
When they played here in 2010 our reviewer said they were not like a typical pop-rock band.
"They love playing pop music but they attack their songs with the intensity and brazenness of a hardcore band while still having fun."
Tickets go on sale Monday September 9 at ticketmaster.co.nz (Auckland) and ticketek.co.nz (Christchurch).
For more information go to paramore.net
New versions of top 70s bands
Four bands who made their names in the 70s are heading this way for a series of summer concerts.
American southern country rockers Lynyrd Skynyrd, anthemic 80s rock band Starship featuring Mickey Thomas, and British art rock reggae act 10cc are on tour together as part of the 2014 Summer Concert Tour (the last event was headlined by Pat Benatar).
Meanwhile, in December Australian soft rockers Air Supply - made up of singer-songwriter and guitarist Graham Russell and singer Russell Hitchcock - play three shows on the Hits & Memories Tour, featuring songs such as Lost in Love, All Out of Love, and Making Love Out of Nothing At All.
Air Supply play CBS Arena, Christchurch, December 3; St James Theatre, Wellington, December 4; and The Civic in Auckland, December 5. Tickets go on sale Monday at Ticketek (Wellington and Christchurch) and Buytickets.co.nz (Auckland).
It's safe to say the Lynyrd Skynyrd of today is a version of the 70s band. Guitarist Gary Rossington is the only original member of the line-up because the band disbanded in 1977 after founding member Ronnie Van Zant and other members and associates of the group were killed in a plane crash.
The band - whose hits include Sweet Home Alabama and Freebird - reformed after a long hiatus with Van Zant's younger brother Johnny stepping in as frontman, and early drummer Rickey Medlocke back on board.
And Starship is also a "version" of the old band who were best known for songs like We Built This City and Sara, because it doesn't feature singer Grace Slick, with co-vocalist Mickey Thomas leading this incarnation of the band.
These days 10cc, best known for 1978 hit Dreadlock Holiday, is led by founding member Graham Gouldman and features 1970s players Paul Burgess (drums) and Rick Fenn (guitar), and for the first time since 1993, original member Kevin Godley (who, along with former 10cc member Lol Creme, directed music videos for the Police, Duran Duran and Frankie Goes To Hollywood) is also back in the band.
The Summer Concert Tour is at the Amphitheatre, Taupo, February 8; Matakana Country Park, February 9; and Gibbston Valley Winery, Queenstown, on February 15. Tickets on sale from ticketek.co.nz on September 11.
Earle and The Dukes return
He impressed with his sold-out solo performance at the Kings Arms last year (and again when he jumped up on stage for a jam with Lucinda Williams at the Auckland Town Hall the night after) but next year Steve Earle will head back to New Zealand with his band the Dukes for a show that will range over his four decades as a timeless American troubadour.
The man who's proved himself a highly watchable screen presence with memorable roles in television series like The Wire and, more recently, Treme, also has 15 studio albums to his name, so you can bet he won't be playing the same set or telling the same stories as last time. Hearing new material from his latest acclaimed album, The Low Highway, should be a highlight, but with long-time drummer Will Rigby behind him, along with Chris Masterson and Eleanor Whitmore of the Mastersons, renditions of favourites like Copperhead Road will undoubtedly also be memorable.
He'll be playing at the Powerstation in Auckland on Saturday, April 26 and in Wellington at the St James Theatre on Sunday, April 27.
Follow @nzherald_ent on Twitter for all the latest entertainment news.
- TimeOut