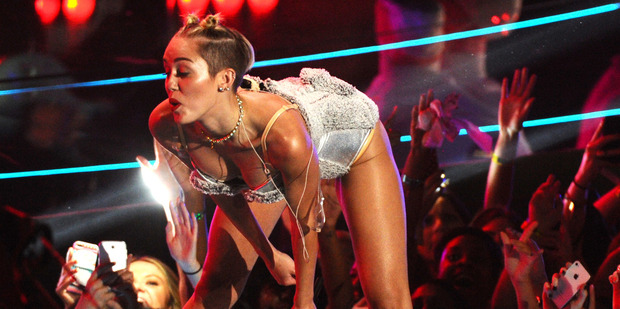 Brooke Shields, who played Miley Cyrus' TV mother in Hannah Montana, has branded the singer's provocative performance at the MTV VMAs "desperate".
The 48-year-old admitted on the Today show this morning that she was among the many who were left stunned by the former child star's routine at the Sunday night ceremony.
The 20-year-old star shocked viewers by gyrating on stage with Robin Thicke in a flesh-coloured bikini.
During the Blurred Lines duet, the twerking fanatic strutted around with a giant foam finger while putting on a series of crude moves, and at one point she even bent down in front of her 36-year-old collaborator - who is married to actress Paula Patton - in a salacious pose.
Brooke, who guest-starred as Cyrus' deceased mother who came back from the dead in some Hannah Montana episodes, weighed in during an interview with Willie Geist on Monday.
"I was Hannah Montana's mother!" she said, adding with mock shock: "Where did I go wrong?"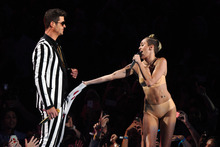 She then expressed genuine concern, saying: "I just want to know who's advising her, and why [the racy display] is necessary ... [Our children] can't watch that.
"I feel like it's a bit desperate," she said.
She said the that while Lady Gaga also put on a racy show, she felt there was a distinct difference between the two performances.
"[Gaga has] a genius behind all of it; it's not just display," she said.
Brooke said that Cyrus' attempt to rebel from her Disney Channel image is overshadowing her talent.
"You could see her trying so hard to go against that," she said. "She can sing beautifully, and I feel like if she lets that lead, rather than let her bottom lead ... She's trying so, so hard."
Brooke, who knows first hand about growing from a young star into adulthood while in the spotlight, did offer some praise.
"She went for it," she said. "You've got to give her some credit. We're all talking about
Other US morning shows were equally shocked by the performance, citing the issues of a 20-year-old girl gyrating against 36-year-old married father-of-one, Robin Thicke.
MSNBC's Morning Joe co- host Mika Brzezinski called the performance "really, really disturbing".
She added: "That young lady, who is 20, is obviously deeply troubled, deeply disturbed, clearly has confidence issues and I don't think anybody should have put her onstage.
"That was disgusting and embarrassing.
"They don't think that's attractive, Miley. Nobody does, actually," she said. "That was not fun. That was not funny. That was really, really bad for anybody who's younger and impressionable, and she's really messed up.
"The whole thing was cringe-worthy, but I feel bad for her. She is a mess. Someone needs to take care of her. Someone needs not to put her onstage and make a complete fool of herself."
Even Thicke's mother, actress and singer Gloria Loring was confused by the display.
"I don't understand what Miley Cyrus is trying to do," she told OMG Insider. "I think she's misbegotten in this attempt of hers. And I think it was not beneficial. I didn't get what her point was. It was so over the top as to almost be a parody of itself."
The display, which saw Cyrus clearly enjoy the attention as she wagged her tongue and smirked in the two-piece latex bikini, sent Twitter into overdrive with many celebrities weighing into the controversy.
Producer and director Judd Apatow tweeted a snapshot of Cyrus in her younger, more wholesome days alongside the caption: "I will always have this version of Miley. Let's live in the past and heal."
Bill Mayer likened the performance to a specific type of evening entertainment, tweeting: "Watching VMAs. Haven't been in a strip club in a while but good to see nothing has changed."
And Melissa Rycroft suggested she was not of the right age to appreciate Miley's moves.
"I feel I'm too old to appreciate the (ahem) new Miley Cyrus ... feeling slightly violated," she wrote.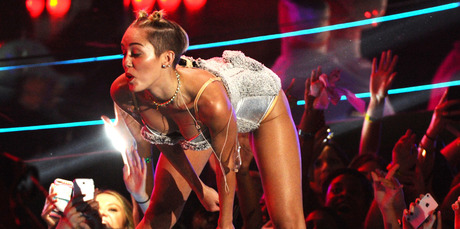 Nick Cannon weighed in to the fray, tweeting: "Remind me to never let my kids into showbiz ... thanks."
Cyrus' skimpy outfit matched her skin tone, giving the impression she was nude and left little to the imagination as surprised audience members including Rihanna and One Direction caught an eyeful of her derrière.
The audience seemed rather unimpressed however, with the Smith family - Will, Jada, Jayden and Willow - all captured on screen with dropped jaws.
Earlier in the evening, Cyrus - who is engaged to hunky actor Liam Hemsworth - gave a performance of her own hit song, We Can't Stop, sporting a teddy bear-themed leotard while her troupe of backing dancers performed with teddy bears strapped to their backs.
- Daily Mail