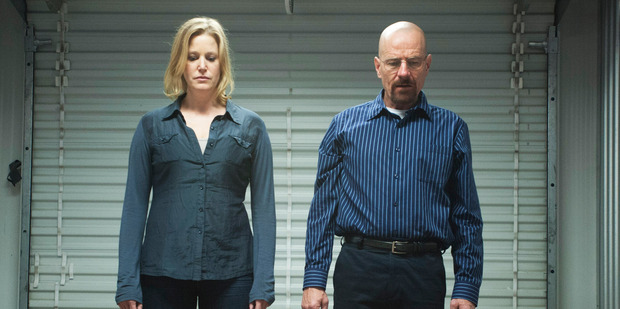 She expertly plays the long-suffering wife of Walter White on the hit series Breaking Bad.
However, for Anna Gunn, 45, the experience has been somewhat bittersweet due to unpopularity of her character Skyler.
In an article for the New York Times, the actress has revealed her shock over online groups that are devoted to hating her character Skyler - and has even received death threats.
She wrote: "As an actress, I realise that viewers are entitled to have whatever feelings they want about the characters they watch. But as a human being, I'm concerned that so many people react to Skyler with such venom."
Gunn revealed that the Facebook group 'I Hate Skyler White' had received thousands of likes from fans of the show, and another featured a group name so offensive she was unable to repeat it in her article.
It appears that many fans saw the character's initial reluctance to accept husband Walter's new-found life of crime as a highly annoying aspect of the show's narrative.
Gunn explained that fans found her character to be a "shrieking, hypocritical harpy" and that she didn't "deserve the great life that she has".
However, the hatred became so much for the actress that she was even forced to review her security after receiving a death threat from one fan.
She revealed: 'One such post read: "Could somebody tell me where I can find Anna Gunn so I can kill her?" Besides being frightened (and taking steps to ensure my safety), I was also astonished: how had disliking a character spiraled into homicidal rage at the actress playing her?'
Reasoning why fans have reacted in such a way, the actress wrote: "Because Skyler didn't conform to a comfortable ideal of the archetypical female, she had become a kind of Rorschach test for society, a measure of our attitudes toward gender."
It's not the first time that Gunn has spoken about the fan backlash over her character.
In May, she told The Hollywood Reporter: "People in Albuquerque are crazy about Breaking Bad, and the thing that I didn't expect was how much people got into the characters, and this incredible backlash against Skyler.
"I wasn't really aware it was happening until people started telling me, 'Your character is a b****. Did you know that?' And I was like, 'I do now!'"
Breaking Bad is in its last season and just six episodes remain. It screens on Soho on Monday nights.
* Read Gunn's full story here.
- Daily Mail