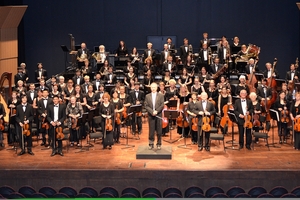 Uwe Grodd has just come from a rehearsal for Manukau Symphony Orchestra's The Titan concert, which takes place tonight in Manukau's Genesis Energy Theatre.
"It's such a blast," the conductor enthuses. "That fourth movement of the Mahler just flies through the air. It's unbelievable and when it takes off, it's like you're on speed."
Tonight the MSO celebrates 20 years of music-making and Grodd cannot believe that two decades have passed since those first workshops in Papatoetoe Town Hall. He stresses it was the indefatigable Terry Spragg who set it all up back then. Spragg is still a force behind the orchestra, having done everything from laboriously annotating string parts to relinquishing her garage for 16 years to house scores, instruments and other paraphernalia.
"Terry has seen the MSO grow from very humble beginnings to what is now a 100-piece orchestra playing Mahler," Grodd observes. "It was a mixed band at first, held together by a lot of enthusiasm and a love for the music.
We had one oboe alongside four clarinets back then, but now we're a properly balanced classical orchestra."
This is not the first time the MSO has tackled Mahler - mezzo Helen Medlyn performed his Ruckert Lieder in 2008 - but the choice of the First Symphony is significant.
"This was written at the most important time of Mahler's life," Grodd explains. "He would have felt that the whole world was coming into his little study. Later on, he described the symphonic form as being like a world that must embrace everything."
This is the perfect symphony for the occasion on many counts. "The First has a special relevance to us," says Grodd. "It touches our spirit, our souls and so many things that relate to our everyday lives."
More importantly, there is the feeling of a claim being staked here. "This work is a signal to Auckland and New Zealand," Grodd points out. "We are now a serious symphony orchestra and can play the 'big stuff'; come along and hear it."
Manukau Symphony Orchestra is many things to many people. It has to be. Its We are Pasifika concert in October, with conductor Opeloge Ah Sam and singers Daphne Collins, Rejieli Paulo and Eddie Muliaumaseali'i, complements what Grodd describes as the "European Grand Central" culture of tonight's event. "Our orchestra represents 30 different countries, because that is what Manukau is made up of."
Important connections are being sustained, too; tonight's Mozart Concerto features Tongan violinist Loata Mahe.
"Loata was the first to receive one of our scholarships," Grodd says. "She's our assistant concertmaster and is working as a professional musician. She played in the concert that opened this venue so including her tonight is an appropriate way to show how we've grown."
Another component of the Manukau success story is the fine soloists it attracts, such as pianist Michael Houstoun, whose Rachmaninov Third last year was a sell-out. Grodd is also committed to local composers, with 30-40 new works commissioned and premiered. Tonight is no exception and Gareth Farr has written a special Manukau fanfare, He Tataratanga Manukau.
Grodd has known Farr since he was a student percussionist at Auckland University Orchestra and assures me that this country's most flamboyant composer "knows how to bring his exuberant flair into any celebratory occasion".
"We wanted a very colourful and bright fanfare and my gosh, we got one. It is so vibrant and exciting, it almost blows the ears off."
I inquire as to whether we might expect log drums. "It's the whole deal," Grodd laughs. "It goes like the clappers. There are a couple of reflective moments, some earthy dance tunes but when it takes off again, it's like popping the champagne at the start of a celebration."