This new recording must be one of the best of the year.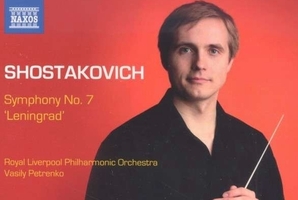 Shostakovich: Symphony No 7 (Naxos)
Stars: 5/5
Verdict: Russian conductor's latest Shostakovich triumph brings back memories of Auckland concert
Any company with even a dribble of marketing nous would tap the potential of Vasily Petrenko on a CD cover. Little wonder that Naxos has the soulful Russian conductor on the various instalments of his Shostakovich symphony cycle.
The latest has the Royal Liverpool Philharmonic Orchestra striving for and achieving its magnificent best in the composer's Leningrad Symphony.
The penetrating eyes of Petrenko and the forceful stride of Shostakovich's opening Allegro are an irresistible combination; one is tempted to indulge in fantasies starring the conductor as either poet or warrior in a symphonic portrait of the eternal struggle against fascism.
Those who experienced Petrenko's 2011 performance of the work, with the New Zealand Symphony Orchestra, will welcome this recording.
Two years ago, in Auckland, we were transfixed by the first movement's insidiously obsessive snare drum and felt the prickle of goosebumps when the second movement erupted into blaring marchtime.
If that evening was a highlight of that concert year, then this new recording must be one of the best of this year.
The RLPO and Petrenko have a very real chemistry and producer Andrew Walton catches it to perfection, taking it from the generous acoustics of Liverpool's Philharmonic Hall to your stereo.
The Symphony's many extrovert pages - ferociously wild, even by Shostakovich's standards - are thrilling, especially when they lurch as twisted dances and marches from the desolate, scarred landscape of the Finale.
Be prepared to be jolted by the fierce snap of orchestral pizzicato five minutes in.
Shostakovich, like Mahler, works on an expansive time scale, especially with his great slow movements. Petrenko's Adagio runs to almost 19 minutes, encompassing stern walls of wind and brass, plaintive flute solos and huge waves of rage.
Russian soprano Galina Vishnevskaya described the composer's symphonies as wordless monologues containing protest and tragedy, pain and humiliation; unmasking the false, base and cynical communist ideology.
Perhaps a local composer might find similar inspiration in our political situation; Shostakovich was fond of incorporating note patterns such as BACH and DSCH - what about GCSB?