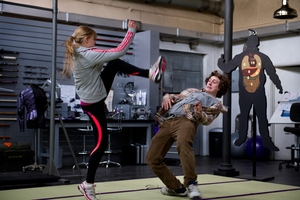 When Kick-Ass hit screens in 2010, it tripled its budget at the box office, so a sequel was inevitable. Based on the comic book of the same name by Mark Millar and John Romita jnr, the film was directed by Matthew Vaughan, who co-produced with Brad Pitt, both of whom are back on board as producers of the sequel.
Does director Jeff Wadlow's successor live up to the energy, spunk and pizzazz of its predecessor? Yes, though this time round it appears to be trying harder to be cool and edgy. Nicolas Cage's character, Big Daddy, is but a cheesy photo on a mantelpiece and his daughter, Hit-Girl (Chloe Grace Moretz), is striving to abide by her guardian's desire for her to play the part of a normal American teenager, not a masked and caped vigilante, something Kick-Ass (Aaron Taylor-Johnson) is also struggling with.
Conflict arrives in the form of The Motherf***ker (Christopher Mintz-Plasse), a rich brat whose father was killed by Kick-Ass and Hit-Girl in the first film. He assembles a ruthless gang to take on Kick-Ass and his motley crew of vigilantes, fronted by Colonel Stars and Stripes (Jim Carrey).
Soon all hell breaks loose.
By deploying a postmodern deconstruction of the comic book superhero genre, the film is a relentlessly fun parody of the ridiculous concept of masked vigilantes and villains. Contrasting Hit-Girl - nicely set up at the film's conclusion for her own franchise spin-off - with the It-Girl at high school is a little predictable, but it allows the film's focus to shift easily between Hit-Girl's and Kick-Ass' respective dilemmas.
Stars: 3/5
R16; 103 minutes. Out now.