Stephen Jewell discovers there's more in store for the hit show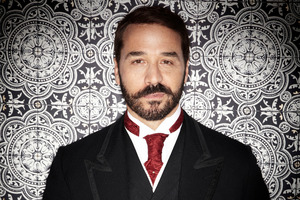 When I first walk through the doors of the Mr. Selfridge set, it almost seems like I'm standing on the ground floor of the famous Oxford Street department store circa 1909 instead of an old carpet warehouse in northwest London. An impression reinforced when the star of the show Jeremy Piven bounds up, still dressed in the dapper three-piece suit that he wears as the popular ITV series' titular American businessman.
Puffing on a cigar as he sits down amongst the intricately constructed perfume and haberdashery counters, the 48-year-old is as charming and effusive as Harry Gordon Selfridge himself, although he is clearly itching to be elsewhere.
"Sometimes I would rather actually act than talk about it," he admits cheerfully. "As you've seen from the show, Harry is a very hands-on character and so it's hard to leave the set as you just want to stay in the zone."
Best known for playing Ari Gold in HBO's cult comedy Entourage, Piven insists that the motormouth Hollywood agent and the historic entrepreneur are not actually poles apart.
"You'd be surprised how similar they are, even though the characters are completely different," he says. "In Entourage, Ari was a very aggro character, who worked on the lowest level as a human being. If we're enslaved to our egos, we get over-reactive and that's basically what he was like. That was fun to play but the thing about Harry is that he continuously takes the high road. He has his demons and that leads to his downfall."
As Kiwi viewers have seen - episode 7 screens on TVNZ later this week - Harry's affections have been torn between his long-suffering wife Rose (Frances O'Connor) and Zoe Tapper's alluring but increasingly unstable showgirl, Ellen Love. "His love for Rose has always been there but the opening of the store and proving himself by doing it right and making this place a success really distracts him," reasons Piven. "He's one of those guys who is easily distracted and that makes for a complicated character. It's my job to play this guy who considers himself to be an artist and a performer of sorts, even though he really isn't. He thinks that the store is his theatre so he's really taken with Ellen Love.
But how could he not be? She's really glowing in that role as the face of Selfridges. It's my job to play him with all the integrity that I can and to not lose the audience, which you're in danger of doing because he's got this great wife and kids but he ends up running off."
Born in New York but raised in Chicago, Piven believes that he and Harry have much in common. "Growing up, I had a real sense of Marshall Fields, which was where he worked and grew into himself as a professional person," he says, referring to the Chicago emporium where the young Selfridge learnt his trade in the early 1900s before crossing the Atlantic to make retail history. "I was kind of doing the research without even knowing it back in the day. And if you look around Selfridges even now, you can still see all of his influences from his Chicago days. I feel connected to Harry and I'm protective of him. But you always feel a responsibility, no matter if you have a reference for the character or not. In this particular case, we unfortunately don't have any audio of him so we don't know exactly how Harry sounded. But he was from the Midwest and I'm from the Midwest so we just kept my accent."
A tourist attraction even to this day, Piven believes that Harry - who died in 1947 - would be proud of how the modern-day Selfridges neatly balances contemporary developments such as online shopping with its classic core values. "I've been lucky enough to meet the people who run the store right now and they're still doing an amazing job," he says. "They remind me of Harry because they love their jobs and take it very seriously but they also have a lot of fun. Even in a time when people are buying a lot of stuff on the computer, I've never been to Selfridges when it was empty. People are still going there because he wanted to make it an event."