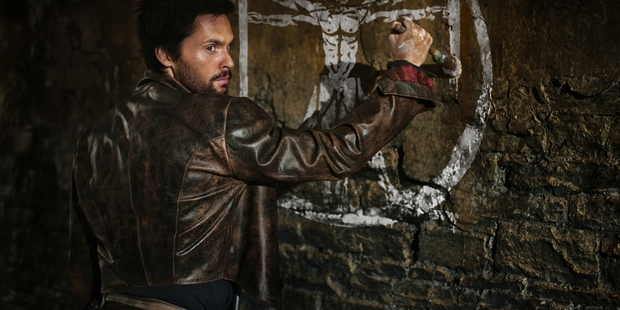 Da Vinci's Demons (The Box, Sky, Thursdays, 8.35pm) is either a jolly good romp or a load of old rubbish, or deep and meaningful or possibly all of these things. I can't quite decide, except on the deep and meaningful because that it isn't.
It can certainly come over all mystical - there is a daft plot involving a quest for a hidden manifesto, The Book of Leaves, which may or may not contain everything that will ever be invented and which was once invented but the knowledge of which has been forgotten and suppressed by that nasty lot at the Vatican. Something like that.
It doesn't really matter. All of this is just a vehicle for the youngish Leonardo to get himself in a heap of trouble with very powerful people. Well, he will sleep with the mistress of the head of the Medici family, which is not just asking for trouble: It's the equivalent of sticking a bull's eye in the middle of his forehead and asking for an arrow between the eyes.
The mistress, the beautiful and bonkable Lucrezia, is not all she seems. Why would she sleep with some piddlingly small fish of an artist?
So that we can have bonking scenes, of course. Also, she is a spy. I think. It's all very confusing, and not just because of the switches in tone.
Youngish Leonardo - this is an imagining (by the co-writer of The Dark Knight Rises, David S. Goyer) of a so-called lost period of the artist's life from the time he was 27 until he was 32. If there's any truth in any of this, I imagine he spent that time being locked up and tortured in a dungeon in Florence somewhere.
Aside from sleeping with a Medici mistress, he is a free thinker, an opium smoker and a bloody nuisance. He is a genius, which means people will be only too keen to bring him down (that damn tall poppy syndrome, again). His father hates him and has him beaten in a dungeon (aha, so that is where he was.) "Why do you have to be so difficult?" he asks his illegitimate son. "Because it's in my nature," says Leo, which earns him another kick in the tender bits by a really creepy hooded copper.
The trouble is, you feel like giving him a kick in the tender bits yourself. He knows he is a genius, which makes him really annoying. He also thinks he's a bit of all right (oh all right, he is, a bit) and gets about in an early Italian version of foppery: a take on the leather bomber jacket and some sort of singlet get-up which reveals his arty chest.
He has visions (you tend to get that when you suck on an opium pipe) of his childhood and his missing mother. He meets a mysterious Turk who says mysterious things about being: "The son of Earth and starry heaven".
This is some sort of code, possibly for: come up to my place and smoke some more opium.
I felt as though I'd smoked rather too much of something by the end of the first episode. I'll give it this much, it looks incredible. There was an amazingly beautiful mechanical golden dove, peacocks and a zebra in the Medici palace, freaks and beauties, filth and stunning riches.
It's earthy, bawdy, rather magical and very, very silly.
Follow @nzherald_ent on Twitter for all the latest entertainment news.
- TimeOut