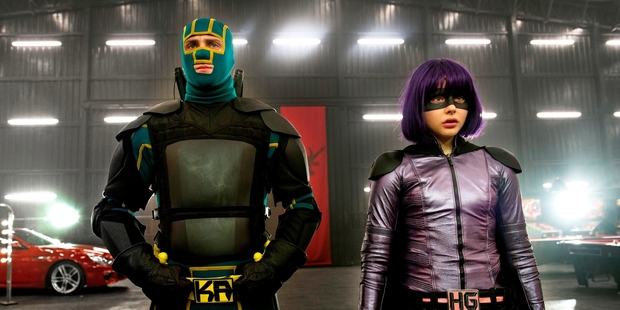 The first Kick-Ass was a real smart-ass. It managed to be a hilarious superhero spoof and a celebration of comic book fandom.
It was outlandishly violent and extremely potty-mouthed, while showing that playing dress-up and picking fights with crime bosses could earn you a hospital bed or worse.
Visually, director Matthew Vaughn's film popped with biff-kapow energy while making high-art references too.
And the adaptation of Mark Millar and John Romita jnr's first comic book series about a teenage dweeb turning himself into a masked avenger came propelled by some memorably mad performances - especially those of Nicolas Cage as Big Daddy and Chloe Grace Moretz as Hit-Girl.
Given its sparky, one-off originality, it might be considered a pity there actually is a sequel. Vaughn seems to think as much by not returning as director. But the real pity of Kick-Ass 2 is that it seems to exist only for grim mayhem and crude humour delivered in a wildly erratic tone.
Sure, fans of the first there's more room here for Moretz's Hit-Girl to be impressively nasty brutish and short again. But much of her storyline is devoted to dealing with her teenage life as Mindy McCready in the cruel Mean Girls world of high school.
Meanwhile, Kick-Ass/Dave Lizewski (Taylor-Johnson, who seemingly used up all his charisma on the first film) hooks up with some of the increasing number of masked vigilantes wanting to make a difference. That includes Jim Carrey as "Captain Stars and Stripes", a former mob goon who has seen the light. Carrey, whose refusal to do publicity on this was possibly more effective marketing than actually talking, delivers a deranged star turn.
The movie is essentially a battle between team Kick-Ass and Chris D'Amico (Mintz-Plasse), who is seeking revenge for his gangster dad who was bazooka-ed in the first movie. He reinvents himself as a supervillain with an unprintable name and a supporting mob of psychos. They do some really nasty things.
But their worst crime is their role in making the second Kick-Ass such a dumb-ass flick.
Stars: 2.5/5
Cast: Aaron Taylor-Johnson, Chloe Grace Moretz, Christopher Mintz-Plasse, Jim Carrey
Director: Jeff Wadlow
Rating: R16 (graphic violence, sexual references, offensive language)
Running time: 103 mins
Verdict: Bad case of sequel slump
Follow @nzherald_ent on Twitter for all the latest entertainment news.
- TimeOut