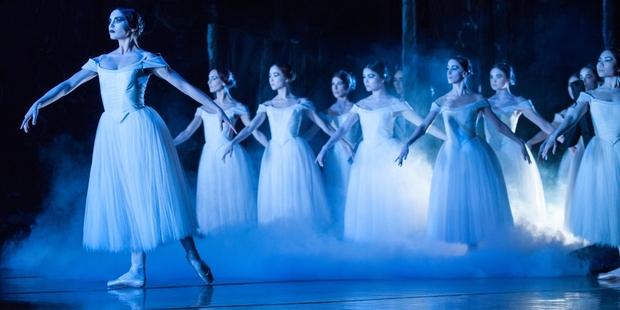 The premise for this performance documentary film is a little unusual. It's a 19th century French ballet, set in Germany, performed by the Royal New Zealand Ballet company. American star Gillian Murphy stars in the lead role, along with Qi Huan from China as the young Duke in love with her. Brought to the big screen by local film-maker Toa Fraser, (best known for No. 2) Giselle was filmed around the performances in Auckland, along with extra footage shot outside in New York and Shanghai.
It's a bit of a head-spinning combination of cultures, but the talent and charisma of the dancers shine through. Murphy in particular is luminous, with her deep red hair and pale complexion. Even those without much experience of ballet will find it hard to look away as she performs one of her solo numbers.
Though it occasionally follows the dancers offstage, it is a dialogue-free film, focused firmly on the tragic story of Giselle and you never see the dancers out of character.
Leon Narbey's cinematography beautifully captures the details you might not see from theatre seats, portraying the action from high angles, or intimate close-ups, making the most of the dancers' acting skills, as well as bringing every important twitch of the legs into relief.
Ballet fans will thoroughly enjoy it, giving them a heightened appreciation of the details and individual performers, but it's also a good entry point for those with a passing interest, or perhaps younger fans who might not sit through a full theatre show. It's a dramatic, emotive story and Fraser's presentation only enhances the dreamy escapism.
Stars: 3.5/5
Cast: Gillian Murphy, Qi Huan, Royal New Zealand Ballet
Director: Toa Fraser
Rating: PG
Running time: 105 mins
Verdict: A beautiful, if not quite ground-breaking presentation
Follow @nzherald_ent on Twitter for all the latest entertainment news.
- TimeOut