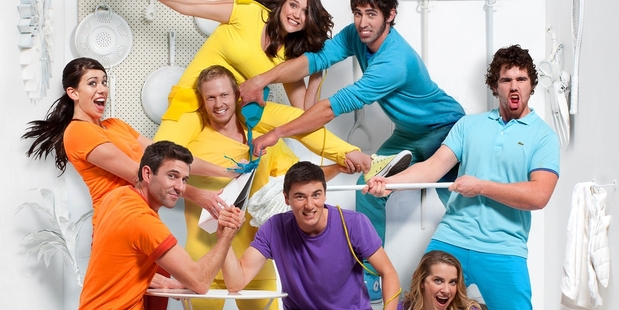 Pick of the week: The Block NZ
There's not much DIY renovation action in the opening episode of The Block NZ - unless you count the four teams having to make a letterbox for their new homes.
Because, as is tradition in this big-budget series, which started in Australia and made it to New Zealand last year, the opening show is all about getting to know the contestants and getting your first inkling of who may be the strongest teams on the block.
So we meet lovey-dovey Auckland couple Alice and Caleb, who already have three renovations under their belts, and young, competitive and determined Alisa and Koan, who work by day and renovate their Auckland villa by night. Then there are Nelson couple and "renovation rookies" Loz and Tom, and good, keen farming brothers Andy and Pete from the Catlins.
Apart from Loz's brief teary breakdown, it's the two "scruffy farmers" who provide the most entertaining moments of the first episode, with lines such as, "It's like working with a baboon", says Pete of his younger brother Andy.
This season the formula of the show is the same, with the pairs doing up one room each week, competing in challenges to earn more money to add to their budget, and then doing the inevitable all-nighter to finish the room before judging. However, it's different from last year's series because the "upsized" houses - two bungalows, a villa, and a 1940s brick and tile in Belmont on Auckland's North Shore - and the vast scale of the site, means a more demanding workload for contestants.
As host Mark Richardson says, to win The Block you need renovation skills, design flair, problem-solving nous, and stamina. "Renovation doesn't get much tougher than this," he says to the teams as they stand on top of Mt Victoria in Devonport before racing off to see who will be the first to The Block site. The first pair through the gate get to choose which house to renovate.
The 10-week do-up projects end with auction night and the contestants keep the profits from the sale of their houses. The team whose property sells for the most over reserve will be the winners and win an additional $80,000.
When: Monday, Tuesday, Wednesday, 7.30pm
Where: TV3
What: The big-budget DIY reality show is back
Music pick: 2013 MTV Video Music Awards
Justin Timberlake and breakthrough stars Macklemore & Ryan Lewis lead the nominations with six nods, but the stars of this year's VMAs are likely to be Lady Gaga and Katy Perry who will sing their new songs on the show. Robin Thicke, whose No 1 single Blurred Lines is up for four awards including Best Video, also performs along with Kanye West and Miley Cyrus. The other nominees for video of the year are Thrift Shop by Macklemore, Bruno Mars' Locked Out of Heaven, Taylor Swift's I Knew You Were Trouble, and Timberlake's Mirrors.
And in the Best Video with a Social Message category - hey, this is an American awards show remember - Macklemore leads the pack once again with gay rights anthem Same Love, and Snoop Lion (aka Snoop Dogg) is also in there with No Guns Allowed.
When: Monday, noon (red carpet), 1pm (ceremony)
Where: MTV
What: And the prize goes to ...
Comedy pick: Comedy for Cure Kids: Good Sports
Last year more than $1.3 million was raised during this live telly event - and the Flight of the Conchords-led Kiwi supergroup unveiled Feel Inside (And Stuff Like That), which became the biggest-selling local song of the year. This year's sporting theme means there will be plenty of sports stars, including the All Blacks, and comedians on hand to provide some laughs. Jono and Ben are up to their old tricks as they play a prank on the ABs, and Mark Richardson presents Sports Factor, where comedian Steve Wrigley is up against Josh Kronfeld in rhythmic gymnastics and Ewen Gilmour takes on Hayley Holt in diving. Broadcast live from Auckland's Q Theatre, and hosted by 7 Days' Jeremy Corbett and Paul Ego, it also features appearances by Stan Walker and fellow Australian Idol winner Guy Sebastian.
When: Friday, 7.30pm
Where: TV3
What: Raising money with laughs
Doco pick: Prime Rocks: Sound City
There's a bit of back-slapping among mates - and in the case of Dave Grohl and Paul McCartney a brief cuddle on the couch - in this documentary. But Sound City, directed by Grohl, is far from a vanity project. It tells the story of the LA recording studio where some of the greatest rock albums were recorded, including Neil Young's After the Goldrush, Fleetwood Mac's self-titled 1975 release and Nirvana's Nevermind. The studio's legendary Neve recording console, which Grohl recently bought for his own studio, is described as "mathematically crisp and just very solid - like a tank or something". With interviews with everyone from Young and Tom Petty, Barry Manilow and Trent Reznor, as well as those who worked there until it closed in 2011, Sound City is a must-see for music fans.
When: Tonight, 9.30pm
Where: Prime
What: This is the planet of sound
Drama pick: Da Vinci's Demons
Leonardo Da Vinci did eventually become the most famous artist ever, but before his success came great turbulence. He's an outsider when we first meet him in this new series created by David S. Goyer, co-writer of The Dark Knight trilogy. But Da Vinci's a genius with a big appetite for knowledge and a desire to subvert an elitist society built on lies and seduction. In the world of late-15th and early-16th century Florence, religion holds the key to power and wealth, and Da Vinci is keen to expose the myths and cause controversy. It may be a more rock-star, action-hero style series than a period drama, with Da Vinci as a handsome, leather jacket-wearing trouble-maker, and it has a penchant for sex and violence, but it makes no claims of historical accuracy - it's all in good fun.
When: Tonight, 8.30pm
Where: The Box
What: Da Vinci as action hero and playboy
Follow @nzherald_ent on Twitter for all the latest entertainment news.
- TimeOut