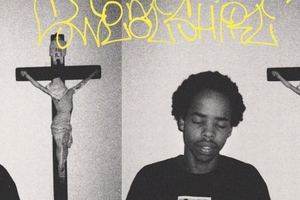 Of all the members in bonkers Los Angeles rap collective Odd Future, Earl Sweatshirt might just be the oddest.
After releasing his stunning 2010 mixtape Earl, the teenager disappeared, sparking a year-long "free Earl" internet campaign when he was discovered at a Samoan retreat for at-risk teens.
Still only 19 years old, Thebe Kgositsile's studio debut Doris comes preloaded with the kind of web hype reserved for A-list rappers.
"I'm afraid I'm going to blow it," he declares on Burgandy, the Neptunes-produced throwback standout that showcases Sweatshirt's subtle, understated and effortless flow. He hasn't - Doris proves Odd Future's best asset has come of age.
These aren't rap songs, they're soundscapes for Sweatshirt to swagger over and the results are often stunning: Try Hive's slurred bass and ghostly choir, the skittery beats and piano lope of Chum, Hoarse's widescreen Western ambition, and the sinister whine of Whoa, which has metaphors from Sweatshirt that are so densely twisted together you could write a thesis unravelling them.
Sure, Doris is full of Odd Future trademarks: Aggressive taunts, off-kilter beats, "wolf gang" chants and guest spots.
But it's Sweatshirt's show, and he never takes a back seat. If Earl was an insular insight into Sweatshirt's boy-at-the-back-of-the-class persona, Doris sees him head to the top of the class.
Stars: 4/5
Verdict: Awol rapper returns with understated style.
Click here to buy Doris by Earl Sweatshirt.
Follow @nzherald_ent on Twitter for all the latest entertainment news.
- TimeOut