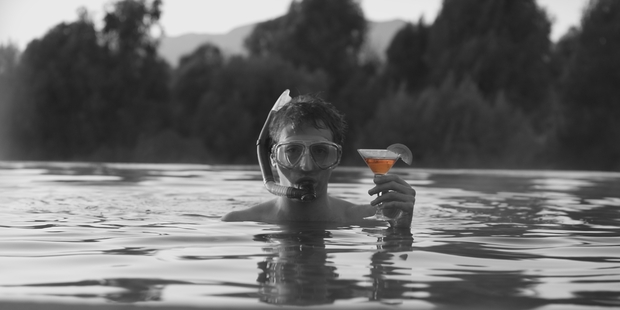 An evergreen comedy of the sexes, this Shakespearean gem has been shot only once for the big screen. Kenneth Branagh directed and played Benedick to Emma Thompson's Beatrice in 1993, when the pair were still married.
Their sparkling verbal sparring remains the best-delivered Shakespeare dialogue I've ever seen - each sentence sounded newly minted - and this modern-dress version doesn't unseat it from that top spot. But it's a hugely entertaining reading nonetheless, in which Leonato (Gregg) hosts fellow captain of an unspecified industry Don Pedro (Diamond) at a 24-hour party.
This set-up foregrounds the raunchy, not to say debauched, elements of the play: if that had been real liquor they were guzzling, they would have all been comatose by act two. But it also keeps the company in a hermetically sealed environment that makes the action seem timeless.
The prolific Whedon created Buffy the Vampire Slayer and its spin-off, Angel; wrote Toy Story and wrote and directed the mega-hit The Avengers. But he's working very small here: he shot over 12 days, using his own Santa Monica home as the set and cast plenty of actors from his earlier work, including Angel alumni Acker and Denisof as the feuding pair who can't live without each other.
The choice to shoot in black and white seems to tip a hat to the combative screwball comedies of the 40s, such as His Girl Friday and It Happened One Night, but a hint that Benedick and Beatrice were once lovers adds a bittersweet undertone to the action. Purists may dispute the textual evidence for such an interpretation but it raises the stakes: behind their protestations, the couple are seeking to rediscover a love they lost, rather than denying one they feel.
This is far from state-of-the art Shakespeare on screen: its ambitions are too modest for that. But it's an exhilarating romp for the enthusiast, and the inept constable Dogberry is alone worth the price of admission. Fillion (of TV's Castle fame) avoids the temptation to hammy mugging and plays him as a sincere respectful flatfoot way out of his depth. He demands only chuckles but gets belly laughs, and he's unforgettable.
Stars: 3/5
Cast: Amy Acker, Alexis Denisof, Reed Diamond, Nathan Fillion, Clark Gregg, Fran Kranz, Sean Maher
Director: Joss Whedon
Running time: 108 mins
Rating: M (sex scenes, drug references)
Verdict: Modest in ambition but often exhilarating
Follow @nzherald_ent on Twitter for all the latest entertainment news.
- TimeOut