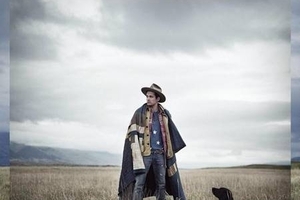 This album is a continuation of John Mayer's country leanings, which came out on Born and Raised from last year. Paradise Valley is inspired by the time he spends at his cabin get-away in Montana and it's more down home and Americana-tinged than the preened pop rock he is best known for; tracks like Your Body Is a Wonderland.
And it's a sound that suits him well. He also looks the part on the cover, wearing a cowboy hat and poncho-type throwover, and standing in the middle of a barren field with his dog.
Who You Love, a duet with girlfriend Katy Perry, is sentimental and soppy; long-time Mayer fans will love it. But he's at his best when the music takes off on an effortless thigh-slapping, toe-tapping gallop, like on the cover of the late J.J. Cale's They Call Me the Breeze and the pedal steel-driven You're No One 'Til Someone Lets You Down.
But then it gives way to the delightful meandering and melodic moments of first single Paper Doll, with its gentle plucky hook. Meanwhile, on heartfelt ditty Dear Marie he sounds a dead ringer for Ben Harper with a touch of huskiness to his voice, and his brief but beautiful collaboration with future soul star Frank Ocean on the 90 second-long Wildfire is inspired.
Stars: 3.5/5
Verdict: Proves he's a true country boy
Click here to buy Paradise Valley by John Mayer.
Follow @nzherald_ent on Twitter for all the latest entertainment news.
- TimeOut