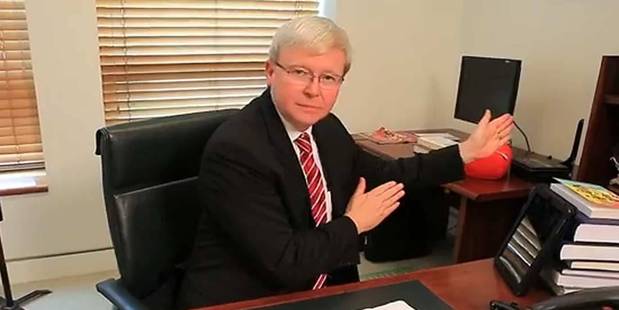 An Australian punk band admits it's overwhelmed by reaction to a music video featuring Kevin Rudd dancing behind his desk.
The prime minister does an awkward little robotic jig and pops his head out from behind a newspaper in the two-minute clip accompanying Super Best Friends' new track Round and Round - a song that mocks the 24-hour news cycle.
Deputy Prime Minister Anthony Albanese, Opposition Leader Tony Abbott and Greens leader Christine Milne also star in the video alongside MPs Rob Oakshott, Bob Katter, Nick Xenophon and several journalists.
Some of the politicians lip-sync to the lyrics, which include: "Messages well rehearsed ... It's news but not really."
Super Best Friends, a Canberra-based trio who formed about five years ago, shot the video in April and posted it online on Monday night, saying they hoped it would inject life into the Australian election campaign.
"My phone has been going gangbusters ever since," bass player Matt Roberts said.
"It's been absolutely crazy. We hoped it would go a little bit viral, but it's been on TV all morning and the Prime Minister has bloody tweeted the link.
"It's been overwhelming."
Roberts filmed and produced the video while working at Parliament House as a cameraman for the ABC.
He says most of the politicians were keen to take part - though some were more natural performers than others.
"The best was probably Rob Oakshott - he really nailed the lip-syncing," Mr Roberts added.
Rudd filmed his segments while he was a humble backbench MP.
"Mr Rudd will be adding the song to his iPod soon," a spokesman for the Prime Minister said.
"He hopes his dancing didn't offend anyone."
- AAP