Raconteur Quentin Crisp became a leader of the gay movement just by being himself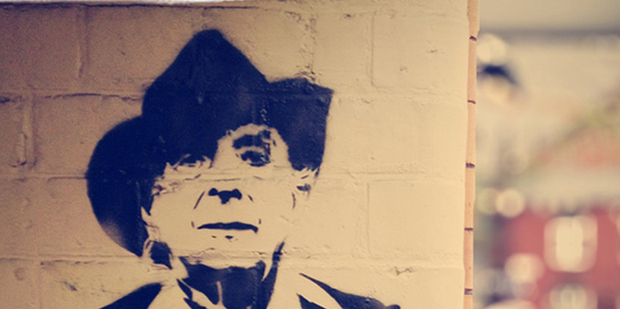 Next week, Roy Ward will age nearly 40 years, sprout a shock of thinning grey hair and adopt the cultured accent of an ageing British man who has been openly gay for decades but does not believe in homosexual liberation.
Ward is bringing back to life flamboyant raconteur Quentin Crisp, a true contrarian whose acutely observed musings on life, love and human nature form the basis of Tim Fountain's Resident Alien. Staged in 1999, shortly after Crisp's death at 90, it's a solo show set in his filthy New York apartment as the transplanted Brit prepares for a night out.
Ward has played many roles on stage and screen and behind the scenes in his 30-year career. He's a former associate director of Auckland Theatre Company, where his directing credits include My Name Is Gary Cooper by Victor Rodger and Noel Coward's Design for Living. His most recent production, Black Faggot, also by Rodger, played at the Basement this year and won four Auckland Fringe Awards, including Best Theatre Production. He's had key roles in many of the country's top television dramas and was script writer/editor at Shortland Street for a number of years.
He happened across the Resident Alien script in Sydney 10 years ago and has been picking it up and dusting it off ever since. He says he now feels he's ready to portray Crisp - "I wouldn't want to leave it until I'm actually 90; I wouldn't be able to remember the lines" - and he and set designer Jessika Verryt have had a fine time recreating Crisp's infamously grubby East Village apartment.
"It's a very touching piece with a strong philosophy running through it. He talks about learning to be yourself and giving yourself permission to do just that. He wasn't afraid of his many contradictions; he embraced them and was who he was. You might say I'm living that philosophy in that I have finally given myself permission to do a solo show which, in my mind, feeds into the performance."
Ward says it's also about timing and wider societal change. Homosexuality has been legal in New Zealand for nearly three decades, and same-sex marriage becomes legal the day before Resident Alien opens. Growing up in Riverton, Southland, he remembers watching the dramatised version of Crisp's early years, The Naked Civil Servant, in the mid-1970s. He took a keen interest in the television series, which starred John Hurt, as it was the first time he had seen a gay man portrayed on screen.
"I'm very curious to see what younger people will make of it. There are young people who don't realise it was once illegal to be gay and that, of course, is a good thing. Why should you have to grow up with that anxiety about your sexuality? It really is extraordinary how far we've come, but how aware are we, especially younger people, of our history and whose shoulders we're standing on - not that Quentin Crisp would ever have thought of himself as a leader in the gay liberation movement. It is just being himself that he became one."
Born Denis Charles Pratt in 1908, Crisp was the fourth child of an upper middle-class family. Effeminate from an early age, he was frequently teased. He moved to London in the 1920s where he changed his name, began to frequent the cafes and bars preferred by fellow homosexual men, and worked as a rent boy and life model before writing The Naked Civil Servant, which brought him international attention. He moved to New York in his late 60s where he began to share his unique take on life. Playwright Tim Fountain described Crisp as "a flirt, a tease, a profound conservative and a left-wing radical, an Edwardian gentleman and an anarchist, a hater of the establishment and yet an upholder of some of its values".
"He took the raw materials of his life and fashioned it into the wit and wisdom that became his trademark. He was absolute proof that life is not about what happens to you but the way you deal with it."


Performance
What: Resident Alien
Where and when: Basement Theatre Studio, August 20-24