Designer Logan Brewer has a long history of shaping how the world sees us. His new exhibition is a tribute to our greatest boatbuilding family. Adam Gifford reports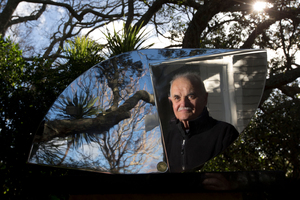 The sight of a yacht on the harbour can make Aucklanders pause, slow down and celebrate the place in which they live. The curves and arcs of hulls, sails, waves, the plane of the sea and the singular line of the horizon: every day there is geometry in action on the Waitemata.
That's some of the sense that Logan Brewer is trying to bring to his sculptures of abstracted nautical forms on show at NorthArt Gallery.
"I'm hoping these say a lot about place. These are Auckland sculptures," he says.
Brewer has contributed a lot to what Auckland looks like and how the world sees New Zealand. As a designer, he has shaped the Maritime Museum, Kelly Tarlton's, Auckland Zoo's Te Wao Nui New Zealand precinct and other tourism and entertainment complexes in Auckland and elsewhere.
He led the design of the New Zealand pavilions at Expo 88 in Brisbane and Expo 92 in Seville. His production of the opening and closing ceremonies at the 1990 Auckland Commonwealth Games changed the way such spectacles are done, and he was the obvious choice to oversee New Zealand's contribution to the international Millennium television broadcast.
He has made major contributions to film and television design through productions such as Terry and the Gunrunners, Hunter's Gold and Other Halves.
Brewer made his start in theatre, going to London in the early 1960s and winning a job as a scenery artist in Sir Laurence Olivier's newly launched National Theatre. Highlights included working on Irish writer Samuel Beckett's Play.
"I made the urns," he says proudly - a technical challenge, since the actors playing a man, his wife and mistress spend the play immersed to their necks in large funeral urns.
"I was standing outside the theatre and this little bloke gets off the No.10 bus and it was Samuel Beckett. Being in the same room was like being next to a nuclear power station. He was amazing. Everything was considered to the 10 millionth degree.
"I remember the rehearsals, because he had the actors talking in a monotone, at great speed. The director got Larry down and said, 'The audience aren't going to understand what they are saying'. And they had a hell of a punch up that went on for a day until they resolved it."
At the same time Brewer was taking a diploma at St Martin's School of Art, learning about sculptors like Brancusi, whose modernist forms are an influence on Brewer's sculpture.
"We had [British sculptor William] Tucker for art history and, of course, for him there was nobody outside Brancusi."
The starting point for the Waitemata series was a gift from his daughter, Jess, of The Logans, a book by Robin Elliott and Harold Kidd subtitled "New Zealand's greatest boatbuilding family".
It includes a record of every known vessel built by Robert Logan and his five sons from when they set up on the North Shore in the 1870s. Brewer is related to the Logans through his father, and liked the idea of a series based on that connection. His initial efforts were painted aluminium sculptural reliefs to hang on the wall, but he didn't feel they were going anywhere.
"I will probably end up dumping these," he says of the dozen reliefs still on the walls of his Northcote Point studio.
It wasn't until he took the idea off the wall that he felt he was getting anywhere. "I started these about 2007 and about 2009 they started to come right, so I got on my straps. I've been building them for about three years."
Brewer works meticulously, starting with pastel drawings to get a sense of the forms, moving on to cardboard models then to Cor-ten
Steeling the show
and stainless steel. Cor-ten forms a protective rust coating, popular for bridges and shipping containers as well as outdoor sculpture.
Most of Brewer's Waitemata works are based on specific Logan boat designs, but there is also modern inspiration in the form of the carbon blade of NZ72, the latest America's Cup contender.
"I saw it being lifted out for the first time and started developing this up," he says.
Making them in steel defined the sculptural language he would use. "You need to set it in a language that describes process so there is some connection for the viewer. They can look at these pieces and say, 'I sort of know how they have been formed'. To bend, to cut, to roll, to form, there is a sort of connection, and they are forms under tension, under arrested motion," Brewer says. "It is abstract minimalism. I want them to feel local, I want them to feel like Auckland pieces of sculpture. They are not abstract for abstract's sake, they are about a harbour and sculptural issues, of course."
Brewer has owned yachts and launches, but with age and arthritis catching up he's happier to spend the time in his studio. The works are about as big as he can make in his shed, but he is keen to scale them up.
"I might do a big one for something like Sculpture on the Shore."
Exhibition
What: Waitemata Series by Logan Brewer
Where and when: NorthArt, Norman King Square, Northcote, August 19-September 4