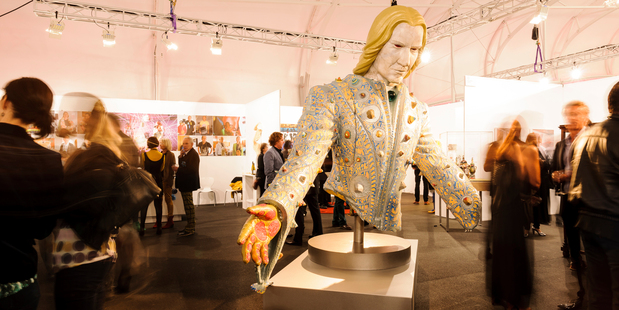 Report from Auckland's prized wharves last weekend. Best way to spend $25: buying a good feed and a beer or two in dingy, raucous Shed 10 at the gourmet Street Eats festival. Unless you were looking to drop a grand or 10 on enlarging your art collection. Then the best way to spend $25 was visiting the Auckland Art Fair, in the neighbouring Dune worm known as "The Cloud".
Best eavesdropped conversation: the "Over the Net" blog of Wellington art collectors Jim and Mary Barr have an archive of art fair eavesdropping. Their gems include, "It's a reindeer and a towel. Everyone's excited." And, "I said it was 8000 bucks and he offered seven, so I told him, 'we're not having this conversation'."
This year, by my ear, it was a tie between, "The thing about the word 'collection' is it's not going to end", and an exchange at a lower North Island booth: "I thought the appointment was very Auckland." "Yes, very annoying."
Best-dressed: dealer Michael Lett trod near Michael Parekowhai's golden (golf) balls in fluoro yellow Nikes. Artist Eddie Giesen matched the small Space Invaders on his T-shirt with one of his large Space Invader necklaces. Others wore romantic moss green dresses and velvet red-riding hoods. But the award must go to Violet Ace, a couple of wharves away, messing with us by wearing approximately a square kilometre's worth of powder blue, in spite of her name. I do like a cargo ship with a sense of humour.
Best way to scare the horses: Rohan Wealleans' lurid, red-eyed, carnival float-sized Wizard of Forgotten Flesh. "It's okay, he's not real," more than one whimpering toddler was told. Maybe not in your dreams ...
Most acute coals-to-Newcastle-and-back-again phenomenon: It's not often we get to see many Australian artists, so it was pleasing to see several Australian galleries at the fair. Unlike most New Zealand galleries, they boldly displayed overtly critical work - a refreshing change. But they were also showing a number of New Zealand artists, presumably because they are better known and therefore easier to sell here ... because we don't often get to see Australian artists!
Gow Langsford promo girlie memorial award for most ironic-but-not stunt: artist Matthew Couper dressed up as performing monkey, painting on an easel, for people to gawp at on entry.
Most amusing @Auckland Art Fair tweet: the fair's tweets demonstrated how an art fair adds to Auckland's sophistication. "Who is Schrodinger?" asked the fair tweeter. "What is this infamous 'cat paradox' you speak of?" This wasn't the work of fair director Jennifer Buckley - as she felt compelled to stress more than once. But the award goes to the notorious hurry-up to critic Anthony Byrt, when he said he hadn't had time to watch and comment on a video work but would do so that evening. "F***," chided the fair, "it's only 30 secs."
Finally, the art world's true regard for considered opinion is made clear.