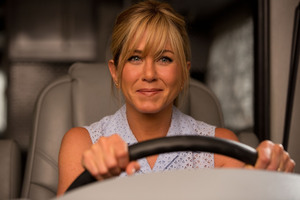 Predictable and schmaltzy meets obnoxious and crude in this road-trip comedy. The successful blending of conventional feel-good comedy with the Apatow school of irreverence is a balancing act, and although there are falls along the way the cast of We're the Millers do a fair job.
It begins with small-time pot dealer David (Jason Sudeikis) being relieved of his stash after trying to help a couple of kids being picked on in an alley. To pay the debt to his dealer (Ed Helms), David is sent to Mexico to bring back a mountain of marijuana and decides the best way to cross the border is as a family man. Single, scruffy and childless, David convinces his broke stripper neighbour (JenniferAniston) and the two kids he helped, Casey (Emma Roberts) and Kenny (Will Poulter), to join the act and head south in a campervan to make the pick-up.
We're the Millers is deeply cynical about family but filled with characters looking for one. It's the longing that gives it some heart, but it's at times difficult to reconcile with the behaviour of David and his recruits.
The script seems to have been written to accommodate the skits along the way, swinging and incest included, rather than to pull together a cohesive story.
Aniston looks hot and seems to be a proficient pole dancer, but will never really convince as a veteran stripper; just as Helms doesn't really seem like a drug kingpin. But that's not really the point, it's a film about an endearing cast of misfits on a madcap drug-smuggling mission. It's designed for cheap laughs and sex jokes, including a gag about an enlarged testicle that will make you laugh despite yourself.
Stars: 2.5/5
Cast: Jennifer Aniston, Jason Sudeikis
Director: Rawson Marshall Thurber
Running time: 109 mins
Rating: R16 (violence, sexual references and offensive language)
Verdict: So predictable, but there are laughs to be had
Follow @nzherald_ent on Twitter for all the latest entertainment news.
- TimeOut