Leena Tailor meets Lily Collins, now more talked-about than her pop star dad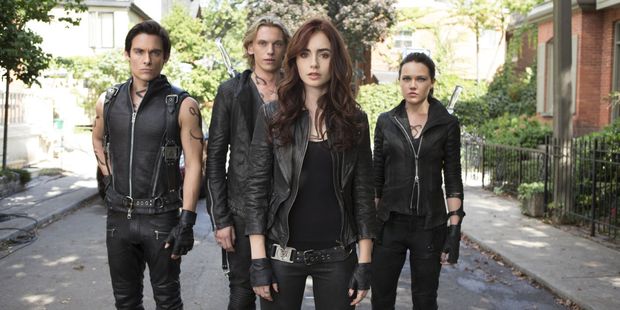 Cassandra Clare had just moved to New York when suddenly her new hometown was ripped apart by the events of 9/11. Wandering the blackened streets in despair, the Iranian-born author never dreamed that the story the tragedy inspired her to write would someday become a best-selling teen novel series - and now a highly-anticipated film saga.
"It was right before the Twin Towers fell and suddenly there was this huge crisis that came upon the city," says Clare, on the eve of The Mortal Instruments: City of Bones premiering on the big screen. "As I walked around experiencing the grief, the 'missing' posters and ashes everywhere I started to think: 'This is why we make up stories about superheroes - because we dream that there will be people who are more powerful than we are, who can protect us.
"I decided I'd like to write a modern-day superhero story with aspects of mythology but thought it'd be great to do one about a girl. We have so much stuff for boys that says, 'You can be a hero,' and 'This is how you learn to be a man,' so I thought why not do, 'You can be a heroine'?''
The resulting story centres on Clary Fray, a teenager living in New York who finds her life overthrown when her solo mother - who is secretly a demon-fighter known as a Shadowhunter - is abducted. Setting out to find and rescue her, Clary starts to uncover her own powers.
Though Clare originally envisioned Emma Stone in the lead role, she was thrilled when the studio hired 24-year-old English actress Lily Collins.
Previously starring in Mirror, Mirror and The Blind Side, Collins - daughter of singer Phil - had just finished reading the first novel when she found out a film adaptation was in the works. The former broadcast journalism student was ecstatic to get the role of a character she idolised.
"Clary was a role model for me," she tells Living. "I was a fan of the books before I was cast so I looked up to her in many ways. The one point that sticks with me is that she never falters from her journey of finding her mum. "My mum and I are so close that I feel that I would do what Clary does to get mine back."
Though Collins relates to Clary's close bond with her mother, it's her famous father who people are always curious about. He rose to fame with English rock band Genesis, as a solo artist with hits like In The Air Tonight, and has dabbled in acting himself.
While she happily chats about her dad, Collins is quietly proud that not all interviews now start with family questions. "I'm a proud daughter and I love my dad and love talking about him. But at some point I guess every question will have been asked.
"On the last day on-set for The Blind Side, crew members would come up and go, 'I just found out who your dad is. Why didn't you tell us?' It's part of who I am, but it's not what I lead with. He said to me the other day, 'It's so great I'm reading interviews with you now and hearing all about fashion or whatever and they don't even mention me anymore!' He's incredibly proud."
Theirs isn't the only father-daughter relationship of note. The film's director Harold Zwart says he took on the project to show his daughter that the mass media can have true, strong female role models.
He hopes the message viewers will take from the film is to "find your own power".
"Everybody has a unique power in them and you just have to find it and harness it. Not necessarily a supernatural power but at least what I'm trying to teach my kids is that you each have your own abilities and just trust your own instincts and do what you think is right. The world is a crazy place. Try to stay focused and never give up."
City of Bones opens on Thursday.