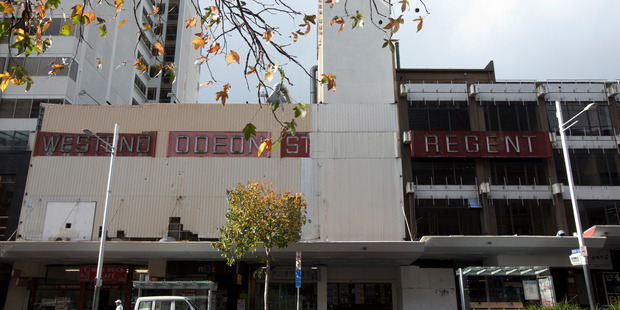 The Broadway show Wicked coming to Auckland next month was envisaged by Bob Kerridge as perfect for the grand gala opening of a restored St James Theatre.
"It would have been a great show to have opened with, but it will be at the Civic Theatre instead," said Mr Kerridge, who is founder trustee of the St James Charitable Trust and executive director of the Auckland SPCA.
"The St James was designed as a live theatre with tailor-made acoustic qualities and ambience.
"There is irony that across the road the Civic, which was designed for showing films, is not showing films and is getting larger shows."
Wicked, with a cast of more than 30, would have shown Aucklanders what a national treasure they had in the ornate St James, said Mr Kerridge.
The theatre has a marble staircase, patrons' boxes, three tiers of seating including the grand circle, and an array of thousands of coloured globes concealed behind decorative plaster.
During its 85 years, the theatre's 1500 seats were filled for live performances of vaudeville, opera, ballet, plays, music and movies.
Stars including Vivien Leigh, Laurence Olivier and Ralph Richardson graced its stage.
But its splendour, which is protected by a Historic Places Trust Category 1 listing, has been sealed from the public gaze since 2007.
At that time, it was a dance party venue, with local and international artists performing anything from hip hop to rock and musicals to cabaret.
An electrical fire in the empty Westend, a small cinema in the St James complex, but on a separate title, prompted Auckland City Council to close the whole complex, throwing up safety demands that were too expensive to remedy.
The owner of the complex wants to build a 39-level apartment tower on the sites of the Westend and Odeon cinemas which were built in the 1950s and 60s next to the St James.
The owner's lack of interest in upgrading the theatre beyond resource consent obligations for work of about $5 million, spurred Mr Kerridge and his St James Saviours campaign for the Auckland Council to buy the building and leave it to a trust to run as a city asset.
Last year, he formed a charitable trust so money could be raised towards the restoration, which in 2010 was estimated to cost $50 million.
Mr Kerridge recalls that in 1953, when the St James was the flagship of a cinema chain founded by his father, Sir Robert, the front was covered to coincide with the visit of the Queen for a film premiere.
He contrasts the St James' derelict state with the St James Theatre in Wellington's Courtenay Place, which was saved from demolition by the Wellington City Council.