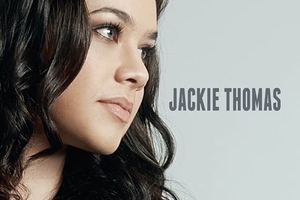 You would have heard all these songs before - that's if you were an X Factor devotee and a fan of Jackie Thomas.
Come to think of it, even if you didn't watch the TV talent show behemoth you would have heard these tunes before since they are all covers of famous songs, except for Thomas' platinum-selling No. 1 single It's Worth It, written by Australian songwriting factory DNA Songs.
So those wanting to relive Thomas' best moments on the show will love this 12-track album that includes her breathtaking version of Bon Iver's Skinny Love and her jaunty, rather lovely take on Fleetwood Mac's Dreams.
And there's Oasis' Wonderwall, although it makes a rather dreary finale here.
The album is proof that winning a TV talent show does not a pop star make. Although Thomas has a great voice, her performances are tentative, with Angel verging on forlorn pop opera.
And although her take on Goldenhorse's breezy Maybe Tomorrow is spirited it's a little stilted.
It's Worth It is thumping and rousing in a middle-of-the-road-pop kind of way; vocally she shows her range, passion and guts on Skinny Love, and she could have even proved herself a vamp if she'd done a more true-to-Britney version of Toxic, because while the arrangement is clever it never fully takes off.
And then there's Black Velvet which, let's just say, should be banned from being sung on any TV talent show throughout the world for the sake of everyone's sanity.
But it's a song where Thomas lets go - like really lets go - and a rawness comes out of her voice that she needs to saddle up and harness on every song she sings because she's in need of some edge and grit, which will come only by putting her voice through some hard yards.
No, not by gargling bourbon but by performing and singing a lot.
And to truly prove yourself in pop music you need to come out with more than just an album of covers, even if in this day and age of manufactured pop many artists get by on using covers, co-writes and songwriting teams.
But though Thomas may be a bit easy-listening and ineffectual for many, what's not to like about her? She has a bubbly personality, and you sense an underlying steeliness to her too as well as a great voice.
It's just that her real test will come on album No. 2 or No. 3, when, hopefully, she's singing some originals - that's when we'll find out if she has the X Factor.
Stars: 2.5/5
Verdict: Let's have more originality.
Click here to buy the self-titled album from Jackie Thomas.
Follow @nzherald_ent on Twitter for all the latest entertainment news.
- TimeOut