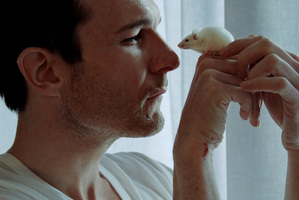 Everything about director Eron Sheean's debut feature is designed to put us on edge. The soundtrack is jarring, the cinematography cold and clinical, and the dialogue crisp, with what's not said lingering.
It's the eerie approach David Cronenberg uses so well, and it suits what is set up as a psychological thriller, where an American geneticist with hefty personal baggage travels to an isolated medical research centre in Dresden to continue his work.
Geoff Burton (Eklund) is a troubled soul, with his research into his baby son's gruesome death from a rare genetic disease making many in the medical research world uncomfortable. Offered a place to continue his work, by a portly Rik Mayall (The Young Ones) as the centre's director, it slowly becomes apparent to Burton that he's been invited to Dresden for another reason. Two competitive scientists are working on a gene that enables animals to quickly regenerate new limbs, and he's expected to aid their work.
It's mysterious and secretive, and with Burton unable to get straight answers he becomes suspicious about what's going on in the basement of the facility.
It's a test subject, a mouse, that gives him the information he needs when a bite leaves him with unfortunate side effects - and a terrible realisation about the genetic disease he shared with his son.
Errors of the Human Body isn't really a horror film or a science fiction film, it's more a personal drama set in the world of scientific research.
Though Sheean's obviously having a dig at the culture and ethics of medical research, the story is driven by Burton coming to grips with the death of his son and the role he played in it.
It's a slightly uncomfortable balance, with the broodiness of Burton's personal grief threatening to overwhelm the tightly constructed and wound thriller that's almost delivered.
Nevertheless, an impressive debut by Sheean.
Stars: 3/5
Cast: Michael Eklund, Karoline Herfurth
Director: Eron Sheean
Running time: 102 mins
Rating: M (Language and nudity)
Verdict: Thinking person's sci-fi.
Follow @nzherald_ent on Twitter for all the latest entertainment news.
- TimeOut