The Pretties start over, by Paula Yeoman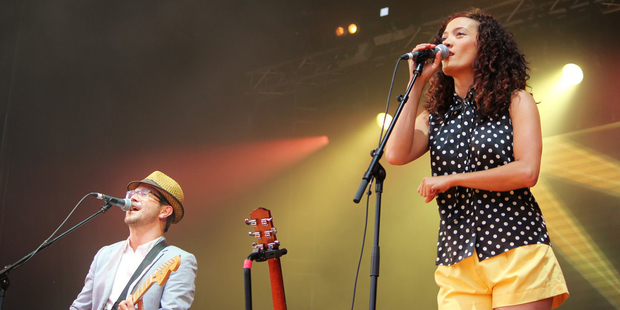 The Fly My Pretties concept has come a long way since its early days in Wellington. And yet when the travelling ensemble hits the road again in September for the Homeland Tour, it will be the sound and feel of those very first shows at the Bats Theatre in Wellington that founder Barnaby Weir is aiming for.
To help him achieve that, Weir, who also fronts the Black Seeds, has enlisted a fresh cast of singers and musicians, including Ria Hall, Mel Parsons, Anika Moa and Kara Gordon.
"What we've got is a real eclectic mash-up of musicalities and personalities. It's just going to make for something really interesting to watch and really beautiful to listen to," says Hall.
The Tauranga-born singer-songwriter admits to being a little nervous about taking part in what's become a favourite in the Kiwi music calendar. But mostly she's excited and looking forward to tackling the stripped-back sound Weir's going for.
"He's trying to take it back to its roots, with a more acoustic vibe.
"I work more in the hip-hop/soul genre, so to be doing something like this is a good challenge. It's taking me back to my roots as well, as a singer that performs with a guitar," she says.
Fly My Pretties will take in some of the country's more far-flung places like Kaitaia, Kerikeri, Dargaville, Westport, Ashburton and Invercargill.
"People in small places really appreciate the fact that you're going into their space. And it's about giving back to our communities, to the smaller pockets of our society. That's my buzz. I'm a bit of a community person," says Hall.
It's all part of an incredibly busy year for Hall, who was part of the Aotearoa Reggae All Stars project, which re-recorded Sensitive To A Smile for charity, taking it to Number 1. She is also in the middle of recording her own album. But she says joining the Fly My Pretties tour was an opportunity she couldn't refuse.
"To be getting in on each other's musical vibe is a really special thing. And to share it with such high quality musicians and singers is really cool."


The Fly My Pretties Homeland Tour kicks off in Kaitaia on September 5 and ends in Invercargill on October 2. They'll perform two shows at the Mercury Theatre in Auckland on September 10 and 11.