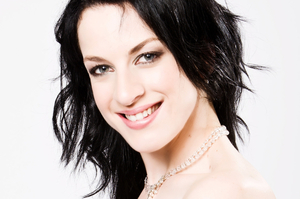 Just last week Eckehard Stier, Auckland Philharmonia Orchestra's ever-astute music director, described The Rake's Progress to me as "funny, full of jokes and very APO-ish".
On Friday, in concert, Stravinsky's opera proved to be all that and more.
From gnarly brass fanfares to breezy epilogue, complete with tongue-in-cheek moral admonitions, Stier served it up crisp and frothy - in keeping with Auden and Kallman's elegant libretto and the lean sparkle of Stravinsky's music.
There were times when imaginations were tested - a graveyard scene without freshly dug graves or Baba the Turk arriving on foot rather than in a sedan - but they were few.
In the brothel scene, the Chapman Tripp Chorus sang lustily as "roaring boys" and "whores" while Helen Medlyn's Mother Goose was a rapacious madam with a whip.
Working from a Mozartian model, Stravinsky perpetually dodges around in the pursuit of unpredictability, and the APO caught every turn. Stier's rhythmic buoyancy kept every phrase airborne; even a few bars of wind trio catching a moonlit night were to be savoured.
Andrew Goodwin, as Tom, displayed the sort of clean-chiselled voice that could have been custombuilt for the role. Not only was he deft in the many ingenious ensembles, but poignantly lyrical in arias like "Vary the song, O London".
As the faithful Anne, Madeleine Pierard was scrupulous in her musicianship; she enjoyed the star turn of "No word from Tom", following through its many emotions, until its triumphant climax.
Paul Whelan mediated charm with chill as Nick Shadow, the smoothest of villains. Forceful in solo work, he was seductively watchable, enticing the hapless Tom to ignominy and death. Liane Keegan was an ebullient bearded Baba, raging magnificently in her "Scorned! Abused!" although it was a mystery why this particular Act II aria had been held back until after interval.
We have come to expect scintillating cameos from Andrew Glover on the opera stage. Suave and droll as the auctioneer Sellem, backed by the outraged cries of chorusing citizens, he made one wonder whether Stravinsky, like Kurt Weill, had a soft spot for the satires of Gilbert and Sullivan.
Review
What: The Rake's Progress
Where: Auckland Town Hall
When: Friday.