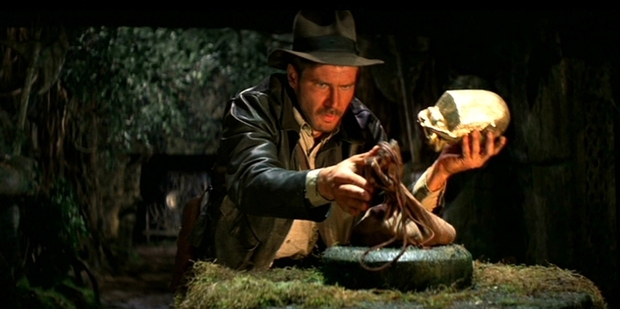 Harrison Ford isn't quite ready for Indiana Jones to hang up his hat.
The actor says it would be "perfectly appropriate" for him to return as the whip-cracking adventurer in a fifth instalment of the movie franchise.
"We've seen the character develop and grow over a period of time and it's perfectly appropriate and okay for him to come back again with a great movie around him where he doesn't necessarily have to kick as much ass," the 71-year-old actor told The Telegraph.
Ford was last seen in his fedora in 2008's Indiana Jones and the Kingdom of the Crystal Skull, which co-starred Karen Allen, Cate Blanchett and Shia LaBeouf.
"To me, what was interesting about the character was that he prevailed, that he had courage, that he had wit, that he had intelligence, that he was frightened and that he still managed to survive. That I can do," the actor explained.
This isn't the first time that Ford has said he'd be up for another outing as the iconic archaeologist.
"It'll happen when it happens," Ford dished to Extra's Terri Seymour back in 2011. "I have strong ambition to do it while I'm still alive. I'm available, I'm not cheap, but I'm available!"
Ford echoed similar sentiments during a confab with the LA Times, saying he would be "delighted" to star as Jones again.
"Maybe [I'll do] a fifth, but I ain't going to Mars. Next time we get a script for Indiana Jones, I'd be delighted to play the character.
"Each time we meet him, we wanted to advance the audience's understanding of the character, not just by putting him in adventures, but by learning something about him.
"That's what led to the meeting of his father [in The Last Crusade], played by Sean Connery, and his son [in Crystal Skull], played by Shia [LaBeouf], and bringing Marion (Karen Allen) back."
Director Steven Spielberg also confirmed at the time that executive producer George Lucas was working on a possible fifth outing.
"[George] is working on Indy 5. We haven't gone to screenplay yet, but he's working on the story," he told Empire magazine. "I'll leave it to George to come up with a good story."
Spielberg also conceded that some of the alien-themed elements of Crystal Skull didn't work.
"I'm very happy with [Indiana Jones 4]," he said. "I always have been. I sympathise with people who didn't like the MacGuffin [plot device] because I never liked the MacGuffin. George and I had big arguments about the MacGuffin.
"I didn't want these things to be either aliens or inter-dimensional beings. But I am loyal to my best friend. When he writes a story he believes in - even if I don't believe in it - I'm going to shoot the movie the way George envisaged it.
"I'll add my own touches, I'll bring my own cast in, I'll shoot the way I want to shoot it, but I will always defer to George as the storyteller of the Indy series. I will never fight him on that."
He also said that one of the movie's most derided scenes - where Jones survives a nuclear blast by hiding in a refrigerator - was a "silly" idea.
"Blame me," Spielberg said. "Don't blame George. That was my silly idea. People stopped saying 'jump the shark'. They now say, 'nuked the fridge'. I'm proud of that. I'm glad I was able to bring that into popular culture."
Speaking in December 2011, Lucas said he was still puzzling over a workable story for a sequel.
"I really haven't found the MacGuffin yet," Lucas told Vulture. "I mean, I know what it's about, but I just have to find a MacGuffin that fits into the arena we're working in."
Frank Marshall - who co-produced the films with Lucas - offered an update on the status of the long-mooted sequel last year, and he wasn't optimistic.
"I say, for me, [Kingdom of the Crystal Skull is] the last hurrah," he told Collider. "I know that yes, we talk about it, but there's no idea, there's no MacGuffin."
Marshall also told Vulture: "I don't know if it's definitely not happening, but it's not up and running.
"They talk about it. We all talk about it. But there's no script, there's no ideas. It's not on until there is a writer on the project. There is no writer on Indy."
Ford will next be seen on-screen in Paranoia, Ender's Game and Anchorman: The Legend Continues. He's also expected to reprise his role as Han Solo in J.J. Abrams' upcoming Star Wars Episode VII.
Sylvester Stallone also gleefully announced on Twitter this week that Ford has joined the cast of the third Expendables movie, after Bruce Willis bailed on the project.
Stallone tweeted: "WILLIS OUT... HARRISON FORD IN !!!! GREAT NEWS !!!!! Been waiting years for this!!!!"
Five minutes later, he served up a parting shot for Willis, who starred as CIA agent Mr Church in the first two films.
"GREEDY AND LAZY ...... A SURE FORMULA FOR CAREER FAILURE," he wrote.
A rep for Stallone confirmed to the Huffington Post that the actor had been talking about Willis, but refused to elaborate.
Willis has kept schtum.
Now play nicely, boys.
NOTABLE NUGGETS
And finally ...
* Leonardo DiCaprio takes a high-flying adventure above the ocean in Ibiza.
* This may be a real thing: Are you ready for Hulk Hogan, the movie?
* Drake finally reacts to Amanda Bynes' tweets: "It's a little weird and disturbing."
* Wizard of Oz Munchkin actress Margaret Pellegrini dies, aged 89.
* Jennifer Aniston sounds off on those pesky wedding rumours.
* Oprah: Lindsay Lohan is "in the best place I've ever seen her."
* Usher speaks out for the first time since son's pool accident.
* Tara Reid is really confused about sharks.
* Thor: The Dark World gets a new trailer.
* Rihanna joins the grills trend.
* Who's that girl? Beyonce debuts new short pixie cut.
- Rumour Has It