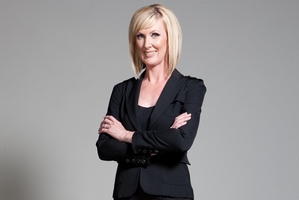 TV3 presenter Rachel Smalley may be jumping ship from breakfast telly to a rival radio network, but there will be no hard feelings when she goes.
The Radio Network's NewstalkZB has signed Smalley to host a new breakfast programme called Early Edition, which will air between 5am and 6am. Her show will lead into the 6am-8.30am breakfast programme hosted by Mike Hosking.
Smalley now presents Firstline, which airs Monday to Friday from 6am to 9am on TV3, owned by TRN's broadcasting rival, MediaWorks.
She will continue to present the weekly political debate show The Nation, which also airs on TV3.
The journalist and mother-of-one was not speaking about her move yesterday.
MediaWorks spokeswoman Rachel Lorimer said there was no contractual issue with Smalley leaving Firstline to take up the new role.
"We think Rachel has done a really good job for us on Firstline," she said. "We understand she wants to do something different and we wish her well. People resign from jobs and these things happen. We also understand that after more than two years of working 2 hours every morning she wants to do something different."
Smalley would continue to present The Nation "for the rest of the season". No decision had been made beyond that.
"The Nation gets renewed on a yearly basis. It wouldn't be accurate to say she will be doing it forever."
TRN's general manager of talk programming, Dallas Gurney, said Early Edition would be a "premium show" for NewstalkZB.
"People's work patterns are changing, requiring them to be up earlier than a few years ago," he said. "This show is designed to give them all the information they need to start the day."
Mr Gurney said early breakfast shows were a trend internationally and there were as many people listening to NewstalkZB at 5.30am as there were at 4.30pm.
"This programme will better serve the needs of the early morning information-seeker."