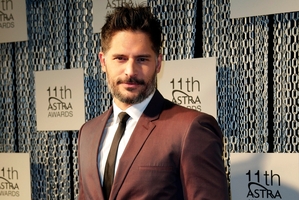 It was about half way through the interview with Joe Manganiello that the conversation turned to his body.
"You made it 10 minutes!" mock-groaned the True Blood star, clearly used to discussing his well-toned physique in great detail.
But let's face it, the tall, muscular actor, who plays conflicted werewolf Alcide on the sexy and bloody pay-TV drama, is in pretty good shape, and the series does take its share of opportunities to reveal the result of all those hours at the gym.
Manganiello admits there's a tiny bit of vanity involved - "Let's make no mistake, there's a lot of sex and nudity on this show, and you do want to look your best," he laughed - but there's also a bit of method behind the muscle.
"I grew up as a young actor idolising someone like Edward Norton in American History X," he said. "And by him creating this very physical presence, it created a real sense of pathos at the end - there was a different person trying to make their way out of this monster's body. It was an incredible use of physicality to tell the story."
For Manganiello, a similar principle applied in illustrating the relationship between Alcide and Anna Paquin's character Sookie Stackhouse, the young woman Alcide was enlisted to protect.
"I thought it would be interesting, given Anna's size, for me to be as big as possible. I liked the visual of these two next to one another. And the more physically developed Alcide was, the better his vulnerability or his sensitivity might play."
And make no mistake, there is a sensitive side to Alcide, despite the beast lurking within. "It sounds goofy saying it out loud but he's the quintessential lone wolf," Manganiello said.
"Then along comes this girl and he is forced to escort her into the jaws of death to pay back this debt his father ran up and, in doing that, in protecting her and taking care of her, he falls in love. In my mind, it's this fantastic love story - something is awakened within Alcide and he can't ignore it anymore."
In True Blood's current season things are getting hairier for Alcide, who ends up the leader of a werewolf pack. "This is something he has run from all his life but he has to assume the crown of this kind of savages."
The actor has noted some True Blood fans aren't as keen on viewing Alcide's aggressive dark side. He views the dual nature of Alcide, the character's compassion going hand-in-hand with his capacity for savagery, as akin to the complex personalities of small-screen "anti-heroes" such as Mad Men's Don Draper or Breaking Bad's Walter White.
"It's something I enjoy playing, and I think it's necessary for his development. What's going to be really interesting is where he goes after this."
Manganiello's initial audition was for the wolfish character of Cooter, who would eventually be played by Grant Bowler.
"But the story goes I walked out of the room and Alan [Ball, series creator] turned to everyone and said 'That's Alcide'," he smiled.
"My picture went up on the wall and there it stayed until they eventually cast me as Alcide. I had a sneaking suspicion that was the one I would be right for."
TV profile
Who: Joe Manganiello, the all-American werewolf
What: True Blood
When and where: Prime tonight, 9.35pm
- AAP