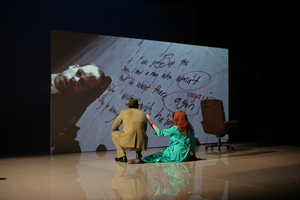 Taki Rua presents a boldly experimental piece of theatre that is as intriguing and idiosyncratic as the title, taken from a little-known book that has been acclaimed as a neglected classic of New Zealand literature.
David Ballantyne's 1968 novel bears some resemblance to the work of Ronald Hugh Morrieson as it delves into the seedy underbelly of small town life seen from the perspective of a boy on the cusp of adolescence.
The interpretation is a labour of love from a talented team of theatre practitioners and with no one claiming a writing credit, it exemplifies both the virtues and the pitfalls of devised drama.
The visual dimension is superb, with a hand-held video camera creating a surreal sense of spatial disorientation by throwing close-up viewpoints of the on-stage action on to the sharply angled surfaces of Kasia Pol's set.
John Gibson's soundtrack creates brilliantly evocative textures with electronically distorted voices interwoven with natural sound and fragments of 1960s pop songs.
There is also wry humour in the use of wildly exaggerated Wagnerian motifs to signify the villain of the piece.
The performances are uniformly excellent with director James Ashcroft abandoning naturalism in favour of symbolic gesture and vocal flourishes that reveal the inner emotions of the characters. But with all the focus on psychological truth, the show somehow loses the sustained audience engagement that comes from old-fashioned qualities like narrative structure and character development.
Rob Mokaraka builds a deeply empathic portrayal of a broken man yearning for his run-away wife and Tim Carlsen movingly captures the anxiety of a son desperately trying to please his tormented father.
Some down-to-earth humour from Maaka Pohatu provides welcome relief from the predominantly sombre tone and the dazzling language gives a tantalising indication of the poetic quality of the original novel.