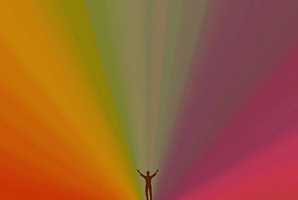 If you've heard either of the first Edward Sharpe albums, Home, and Here, you'll know what to expect. The sound of a friendly, free-thinking, hippie, carnival of musicians hoping to spread joy and peace with sunshine-soaked, tunes which explore faith, love, and spirituality, is still the sound du jour on 35-year-old Alex Ebert's third offering. He rolls 70s-inspired folk rock, with a little 60s pop, and sprinkles it with hand claps, tambourine, horns, congregational group vocals, and exclamations.
So what's different this time round? Well, there's perhaps a deeper sincerity, but the best tracks are the ones that capture a certain youthful wonder and whimsy.
In The Lion has a buzzing, African-style energy, with a beautiful bassline, and lyrics which seem to smile in the face of the world's crazy ways. And In The Summer captures the hazy, lazy delight of an aimless, hot, day.
In contrast, If I Were Free lopes along in an old regretful rocker style, that somehow swings into a Beatles-esque Yellow Submarine section mid-song, yet Ebert's voice holds it together.
There's no surprises or significant updates with album number three, but it's a pleasing enough addition to their work.
Stars: 3/5
Verdict: Still spreading peace and joy.
Follow @nzherald_ent on Twitter for all the latest entertainment news.
- TimeOut