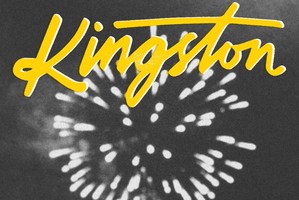 If you don't listen to ads you'd not know these locals with cloud-piercing, shouty choruses have songs helping sell V, Pepsi, KFC and a Ford Kuga. Both those latter hook-filled heavyweights (Good Good Feeling and You Want It? respectively) are on this 14-song album, which is big on "whoa-whoa" or "oh-ho-oh" hooks, forward momentum and songs that drill themselves home on machine-gun drum fills and burn-out guitars. Which is thrilling - singer Dan Gibson is genuinely powerful and distinctive - but the sheer breathlessness and those overused "whoa-ho" shouts show them mining a narrow New Wave vein (Round We Go is a chip off The Vapours' block). Although they can be just as convincing when they step away from the obvious, as on the more measured Sincere and the psychedelic-pop of I'll See the World where guitarist Scott Cleary too-briefly reveals another side.
With American production sheen and mixing, this - which sounds very international - certainly comes searing out of the speakers (turn it up to 11 and stand back) and you can't deny they know their way around a short, sharp adrenalin-fuelled pop-rock song.
Especially if it works in a celebratory, air-punching and shouty "oh-ho-oh".
Stars: 4/5
Verdict: Enthusiasm getting by on sugar-dosing and New Wave infectiousness
Click here to buy Black & Bloom by Kingston.
Follow @nzherald_ent on Twitter for all the latest entertainment news.
- TimeOut