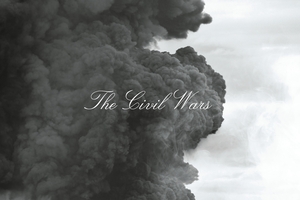 Yes, in one sense it's simply self-titled, but in another, the phrase "the civil wars" is an apt summation of the process this American indie-country-rock duo went through to create their second album.
Having generated a lot of buzz, two Grammy Awards, a collaboration with Taylor Swift and half a million sales in the US with their debut album Barton Hollow, Joy Williams and John Paul White seemed to be riding high.
And then in November last year, just when it seemed they were on the path to global stardom, a few dates into their first international tour (which was to include New Zealand) they unexpectedly announced a break-up and cancelled all further concerts. You could almost hear the collective "huh?" as they left fans in a state of puzzlement, citing "irreconcilable differences of ambition". Ex-Californian Williams, who now lives in Nashville, says she hasn't spoken to White, who lives near Muscle Shoals in Alabama, since they ended the tour.
And yet, in the months before that final show, through mounting tension, they managed to write the songs that make up this new album. They even let a film crew document their time in the studio and admitted, at the time, that the tension was its own sort of musical inspiration.
They were both unhappy and strained, enduring their own self-imposed form of civil war, but somehow the elements that made their debut stand out still remain. Their voices, winding, dancing, blending together, still have an intensity that's hard to ignore. And lyrically the songs jump through themes of regret, rejection, the trials of a wavering relationship, loss and loneliness with ease.
The problem is, for all their efforts at being dark and gritty and delving into their own experience to create honest emotions, the result feels somewhat overdone. For every song that manages moments of magic fragility or rawness, such as the swaggering, smouldering Rick Rubin-produced I Had Me A Girl, or confessional opening track The One That Got Away, there's another where Williams is laying on the melodrama a bit too thick, like her extra-quivering vibrato on Dust to Dust. Perhaps it's her former life as a Christian pop singer, but she has an overly earnest quality that can leave her sounding a little disingenuous. New spiritual From This Valley, which is actually an old track written before Barton Hollow, is a highlight though, sounding effortless and soulful, particularly as their a capella voices spiral upwards in duet.
They finish the album with unadorned track D'Arline, recorded on Williams' iPhone, just their voices and White's tasteful guitar, singing a lament to lost love that can never be found again.
Whether it's directed at each other or not (they maintain they've never been anything more than bandmates and both are married with children), it does seem representative of the creative heartbreak of a duo who don't know if they'll ever find that shared musical love again.
Stars: 3.5/5
Verdict: Songs written in a state of unrest, sometimes too heavy on the melodrama
Click here to buy The Civil Wars' self-titled album.
Follow @nzherald_ent on Twitter for all the latest entertainment news.
- TimeOut