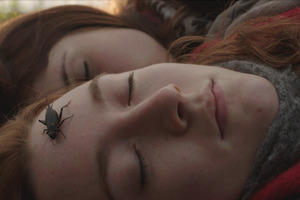 Interview with a Vampire director Neil Jordan once again visits the challenges of living as a vampire in this dark, stylish thriller adapted by writer Moira Buffini from her own play.
Gemma Arterton, who recently played a punkish witch hunter in the fairy tale Hansel and Gretel: Witch Hunters, changes sides in this chilling horror to become a hunted fantasy figure. She's well cast as feisty prostitute Clara, relaxed about doing whatever is necessary to keep her and "younger sister" Eleanor (Saoirse Ronan) safe from the sombre men in dark suits who are searching for them.
Clara and Eleanor retreat to a small, run-down coastal town to hide, where Clara can't help but cause problems while the more innocent Eleanor attends college. Eleanor befriends fellow student Frank (Caleb Landry Jones), who convinces her to share her story - he just wasn't expecting it to reveal her as being hundreds of years old and surviving on human blood. It's this openness, along with an influx of dead people into the town, that begins to make life difficult for the sisters.
Ronan is suitably measured as Eleanor. While her sister takes on more of an action role, she suffers quietly on screen and her isolation is palpable. Where other teen vampires appeal to a broad audience, Eleanor's intelligence and adult performance is perfect for the chilling atmosphere Jordan has created.
As the girls' story is revealed we regularly move back between the 19th century and the present day. Jordan masterfully captures both periods by using a luscious dark palette and handsome visuals, but what he does really well is create a modern world that appears timeless; capturing the idea that time is irrelevant when you're immortal.
It's certainly a stylish thriller with an impressive Brit cast - Jonny Lee Miller, Tom Hollander and Sam Riley all feature - but that can't disguise a narrative that doesn't quite hold up its end, with a story that is more thinly spread than it first appears.
Those who prefer their vampire films told from the fanged side may appreciate this - but even they may feel little has been added to the genre.
Stars: 3/5
Cast: Saoirse Ronan, Gemma Arterton
Director: Neil Jordan
Running Time: 113 mins
Rating: R16 (Horror, violence, sex scenes and offensive language)
Verdict: A stylish, yet familiar vampire tale
Follow @nzherald_ent on Twitter for all the latest entertainment news.
- TimeOut