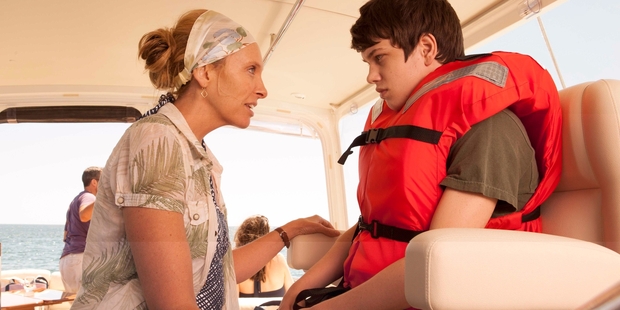 Steve Carell plays a real prick in this gentle coming-of-age drama; he's built a career on being funny but it turns out he also does an impressive bully.
Nat Faxon and Jim Rash wrote the script and show their pedigree with family drama - they also wrote The Descendants - delivering a strong script full of wit and honesty. With The Way Way Back they also direct for the first time and show they have a knack for casting as well. Carell isn't the only one to nail his character; the performances are pitch-perfect across the board.
Carell plays Trent, a divorcee with a typically snooty teenage daughter, who takes his new girlfriend Pam, played by his Little Miss Sunshine co-star Toni Collette, and her 14-year-old son Duncan to the Hamptons for the summer holidays. The Hamptons is, as Duncan's cute new teenage neighbour (AnnaSophia Robb) tells him, spring break for adults, and Trent is keen to get rid of the unconfident Duncan (Liam James), suggesting he needs to find friends to hang out with for the summer.
As his mother, drink in hand, tries painfully to fit in with the other parents running around the Hamptons, Daniel finds refuge at the Water Wizz leisure park.
The theme of adults refusing to grow up continues with the fast-talking childish manager, Owen (Sam Rockwell) and his sidekicks, played by Faxon and Rash. Rockwell is annoying but irresistible, quoting lines from other teenage coming-of-age films and offering Duncan a job, friendship and respite from life at home.
It's not the first time we've seen a shy teenage boy on summer break find the courage to assert himself, but though the story steadily builds towards a confrontational conclusion, the characters are so involving it feels inevitable rather than predictable.
The Way Way Back is a simple slice of dysfunctional family life wonderfully realised. It's funny and sad, with wonderful characters full of flaws and generosity. With a perfect mix of comedy and drama and infused with a mix of both genuine and wildly entertaining characters, including the fabulous and surprisingly brash Allison Janney as Trent's divorcee neighbour, this is one family drama worth getting caught up in.
Stars: 4/5
Cast: Steve Carell, Toni Collette, Allison Janney
Directors: Nat Faxon, Jim Rash
Running Time: 103 mins
Rating: M (Drug references and sexual references)
Verdict: Simple, charming, heartwarming and honest
Follow @nzherald_ent on Twitter for all the latest entertainment news.
- TimeOut