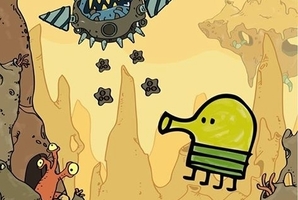 Porting a successful game from the iOS platform to Xbox Kinect makes perfect sense. It worked extremely well for Fruit Ninja, for example.
However, Doodle Jump - a mobile game where players bounce a small alien vertically from platform to platform - sadly never comes close to capturing the same essence as its original.
Since the game was released in 2009, Doodle Jump has sold a ridiculous 100 million copies on mobile devices. Its quirky, hand-drawn cartoon aesthetic and addictively fun gameplay made the "infinite jumper" a smash hit on iOS and Android platforms.
Taking this sort of successful product across to Xbox sounds great, especially as the game swaps the handheld accelerometer-tilting dynamics for full-body motion tracking, thanks to the Kinect camera.
Thankfully, despite my initial fears, Doodle Jump for Kinect doesn't require the player to continuously jump up and down for hours at a time. Instead, your little alien dude automatically jumps, just like in the original mobile version of the game. What players need to do instead is move their body left or right - by sidestepping - in order to direct your character toward a platform and out of harm's way.
The simple task is then to vertically traverse as high as possible without being killed by hazards or missing a platform.
Further controls include moving your hands to aim and fire projectiles at enemies, as well as hopping, crouching and clapping your hands in order to activate special power-ups. In one last attempt to remove any sense of self-respect, the game will also require you to occasionally flap your arms about like a rabid goose.
For kids, it would offer an hour or so of fun and Doodle Jump for Kinect is admirably a much more social, family-inspired outing than the solitary wrist-twitching original. However, the game oddly decides to bring in a series of features that go against this casual gaming demographic.
It's not long into the game before players are confronted with intense endurance-testing levels packed with enemies and projectiles busting out of every edge of the screen. Doodle Jump for Kinect starts off as a friendly, simple leisure activity, but soon turns into a nightmarish gauntlet where players will be forced to physically (and mentally) destroy themselves in order to avoid death.
And death is unavoidable a lot of the time, because of the "invisible hazards" that often appear at the top of the screen with little warning. To compound matters, some of the stages stretch on for nearly 15 minutes at a time, with minimal checkpoints.
With all of the hopping, sweating and arm flapping, it's safe to say this game will double as a pretty decent workout for anyone with the strength and sheer determination to get through it. What's lacking here is the casual fun and simple addictiveness that made the mobile game such a success.
Stars: 2.5/5
Platform: Xbox 360 Kinect