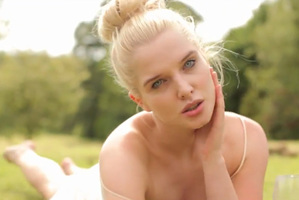 Three Auckland siblings have made a splash in Britain after using a former Coronation Street actress in their music video Gorgeous Baby.
Volita, Moss and Gabriel Bioletti featured 22-year-old British television star and model Helen Flanagan in the clip for the song they wrote as indie rock band The Neo-Kalashnikovs.
According to the UK's Daily Mail newspaper, the group wanted Flanagan, who played Rosie Webster on the soap, in the video because she inspired the track.
MTV UK said the band approached Flanagan because one of the brothers had a crush on her and on their Facebook page "The Neo's" as they refer to themselves call her their "muse".
The four-minute video features a barely-clad Flanagan lip-syncing the lyrics while drinking and smoking in provocative poses.
Flanagan reportedly said she loved the song and "had to be in it" when she found out she was the inspiration behind it. Initially the British press speculated she was making a bid for pop stardom.
The Neo-Kalashnikovs formed in 2007 with older sister Volita as lead singer, songwriter and guitarist, middle brother Moss on drums and youngest brother Gabriel joining on keyboards and bass in 2011.
The trio are based in Los Angeles but returned to Auckland recently with the release of their debut album She's On Heat. Fans lobbied Radio Hauraki to play their latest single Turn the Tables.
The band credits Nirvana, The Black Keys and Smashing Pumpkins among its influences.