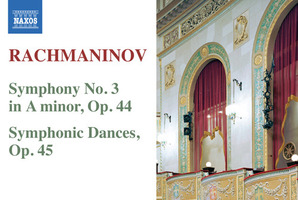 Omso Vanska's recent visit, conducting the New Zealand Symphony Orchestra, alerted us to the plight of his Minnesota Orchestra, still inactive, with its musicians on strike.
A few years ago the Detroit Symphony Orchestra was in a similar situation but managed to pull out of it and survive, seemingly stronger than ever.
The DSO dates back to 1887 and, under conductors who include Paul Paray, Antal Dorati and Neeme Jarvi, secured itself an international ranking. Paray's spectacular recordings for Mercury Records more than lived up to that proud banner "Living Presence Stereo" on every sleeve.
The orchestra's present conductor, Leonard Slatkin, now reaffirms this tradition with a series of first-class CDs on Naxos Records.
A coupling of Rachmaninov's Third Symphony and his Symphonic Dances was obviously close to his heart. In 1936, the Third Symphony had its problems; audiences and critics did not warm to it, even if the composer considered it one of his finest.
Slatkin is with Rachmaninov, all the way. He revels in the first movement's restless shifts, pitting the brute power of full ensemble against woodwind detail and soaring cellos.
While some conductors are content with Eastmancolour for the lush Adagio, Slatkin (and Naxos) insist on full, vibrant Technicolour to do justice to opulent scoring.
An energetic finale is followed by a performance of the 1940 Symphonic Dances that lives up to both words of its title.
The central offering in the DSO's new Copland CD is the 1942 Rodeo, now with its rambunctious Ranch House Party movement restored, complete with cheeky honky-tonk piano.
While performances do not disappoint - Slatkin and his players make a finely-tuned team - the choice of works on the disc is canny.
The more abstract 1959 Dance Panels does not depend on Rodeo's rhythmic immediacy, but impresses with its sharply drawn colours and lines.
Two of Copland's visits to Latin America complete the disc. A dashing El Salon Mexico from 1932 reminds that this was one of Copland's first populist forays; the slighter Danzon Cubana, 10 years later, contains the seeds of a minimalism yet to come.


Classic CD
Rachmaninov: Symphony No. 3 (Naxos)
Rating: 5/5
Copland: Rodeo & Dance Panels (Naxos)
Rating: 5/5
Verdict: Motown's biggest band rises in triumph from its troubled recent past.