Series embraces a fresh brand of cynicism, writes Nick Grant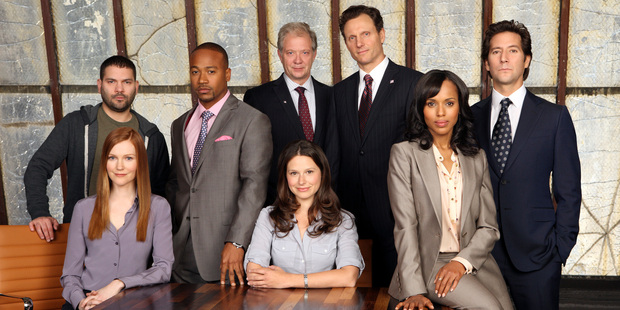 In the opening scene of political thriller series Scandal, a young woman arrives at a Washington D.C bar for what she thinks is a blind date; instead Quinn finds herself in the middle of a head-spinning job interview.
The gig, she's told, involves working for Olivia Pope, clearly a name to conjure with based on the gobsmacked expression on Quinn's face.
"Best job you'll ever have," says fast-talking talent scout/litigator Harrison Wright.
"You'll change lives, slay dragons, bust your hump more than you ever dreamed, because Olivia Pope is as amazing as they say ... when you work for Olivia you're a gladiator in a suit. You want to be a gladiator in a suit?"
It's a rhetorical question - Wright already knows Quinn "would kill puppies to get this job". And so we are introduced to a shady world of political skulduggery in which Pope and her colleagues are the ultimate insiders, even as they spend most of their time operating outside the limits of the legal system.
After she eagerly accepts the job, Quinn is still not entirely sure what it entails.
Fortunately, Wright is on hand for some more motor-mouthed exposition: "We do our jobs right, we never need to go to court. The reason we're not a law firm is so we don't have to play within the rules of the law. We're fixers, crisis managers. We make the problems of our clients, big or small, go away. It's not about solving a crime, it's not about justice, it's about our client."
As the quotes suggest, Scandal features the kind of rapid-fire sharp-talk one gets on Aaron Sorkin's The West Wing and The Newsroom, but it's delivered without Sorkin's suffocating smugness. First and foremost, Scandal wants to entertain its audience, not lecture it on civics, and based on the first two episodes it achieves this aim admirably.
Although the show's cynicism about how the system operates seems authentic enough, the storylines aren't remotely realistic (and apparently get even less so as the series progresses). But the plots are propulsive, the dialogue crackles and the cast, which is headed by Kerry Washington (Django Unchained) as Pope, is uniformly strong.
In the US, where the series' short, seven-episode first season finished in May last year and the 22-ep second season concluded May this year, Scandal is a ratings sensation for free-to-air ABC, as succinctly summed up by the title of a New York Times profile of its creator: 'Network TV Is Broken. So How Does Shonda Rhimes Keep Making Hits?' (before Scandal, Rhimes came up with the hugely successful medical dramas Grey's Anatomy and Private Practice).
In NZ, Scandal will start screening on TV One in September but viewers eager to acquaint themselves with it before then can start doing so this Wednesday. That's when TVNZ makes two episodes of the series available on its Ondemand site. Two more will be added each week thereafter.
The tactic is part of the network's ongoing promotion of online viewing (earlier this year it launched TV2's The Carrie Diaries in a similar way, and it's apparently considering adding movies to the site soon). No doubt there's also the hope that buzz from Scandal's early adopters will give broadcast viewership a bump. With a show this addictive, I doubt that hope will be in vain.
Scandal debuts on TVNZ Ondemand Wednesday, 6pm.