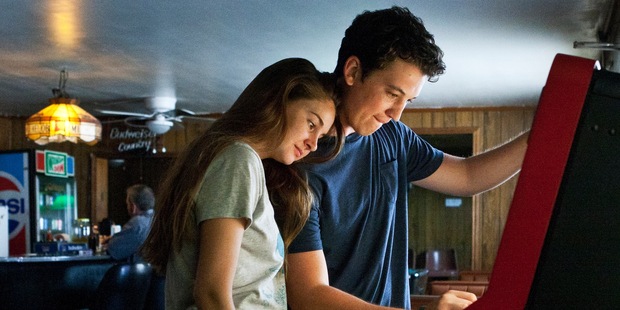 Sutter Keely (Miles Teller) does not have his life figured out, in fact, that is the way he likes it. He is completely content to just live in the now. After all, what is so great about leaving high school and becoming an adult? However, Sutter's world changes when he is dumped by his girlfriend Cassidy (Brie Larson) and ends up meeting the kind hearted Aimee Finicky (Shailene Woodley), who encourages him to find out what happened to is estranged father.
The Spectacular Now, directed by James Ponsoldt, takes the cliché boy-meets-girl story and gives it a little more depth, grounding the story in reality, while keeping it, for the most part, light hearted.
Teller is known best for party movies such as 21 and Over or Project X, yet he proves his depth as an actor playing the charismatic Sutter, who tries to avoid his personal struggles by being in an almost constant state of drunkenness. Woodley (The Descendants, The Secret Life on the American Teenager), who is just breaking out from TV into the movie world, also gives a great performance as a girl experiencing her first encounter with love.
A highlight was seeing Kyle Chander's (Zero Dark Thirty, Argo) performance as Sutter's drop-kick farther. It marked a real turning point in the movie, especially for Sutter, who begins to realise how his life could turn out if he continues down the path he is on.
The Spectacular Now is heartfelt and more true-to-life than most high school romance/dramas. It is a coming of age tale about facing the scariness of the future as well as dealing with the pain of the past. The story draws you in quickly and keeps you laughing, gasping and crying with the characters right until the end.
Stars: 4/5
Director: James Ponsoldt
Cast: Miles Teller, Shailene Woodley
Running time: 95 mins
Rating: M
For more on The Spectacular Now check out nziff.co.nz
Follow @nzherald_ent on Twitter for all the latest entertainment news.