Today's Big Day Out announcement will confirm next year's headliners as two of the biggest bands of the 90s - Pearl Jam and Blur, bands who first emerged as major label acts but who both turned their back on their early success. Scott Kara looks at their respective histories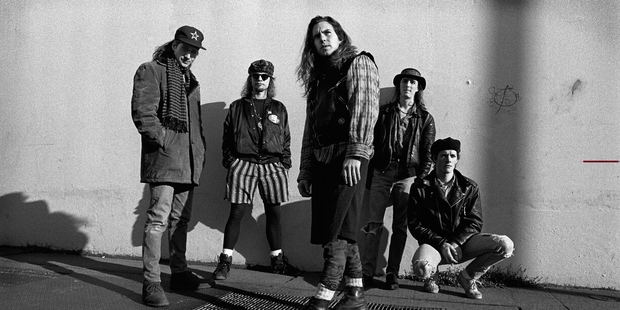 PEARL JAM, FORMED SEATTLE, 1990
Eddie Vedder, vocals, guitar
Jeff Ament, bass
Stone Gossard, guitar
Mike McCready, guitar
Matt Cameron, drums
In the beginning ... There was grunge. It was still only 1984, so it was nowhere near the cultural phenomenon it would become. But there was something very grungy about a song called Swallow My Pride by Green River, a band formed in Seattle in 1984 and made up of soon-to-be Pearl Jam recruits Jeff Ament and Stone Gossard, as well as Mark Arm and Steve Turner, who would go on to form Mudhoney. Ament and Gossard then started up Mother Love Bone in 1987 with singer Andrew Wood.
In March 1990 Wood died of a heroin overdose. Gossard and Ament started playing with guitarist Mike McCready and they recorded a five-track demo tape, including instrumentals of songs such as Alive and Once, to give to potential singers.
Former Red Hot Chili Peppers' drummer Jack Irons gave the tape to San Diego gas station attendant, surfer and budding musician, Eddie Vedder, who recorded some vocals for the tunes. It got him the job.
As Ament says in the 2011 tome, Twenty, which celebrates 20 years of Pearl Jam: "We got a tape that had Alive, Once and Footsteps on it. And they're pretty much exactly the way they ended up on the record."
Vedder joined the band, then named Mookie Blaylock, and they played their first show at Off Ramp cafe in Seattle.
Within a year the band's debut album was out.
Debut album: Ten released August, 1991, sold 13 million copies worldwide and along with Nirvana's Nevermind took alternative rock into the mainstream. With singles such as Jeremy and the rousing and impassioned Alive, Pearl Jam played raging straight-ahead rock 'n' roll in contrast to the Beatles-meets-Pixies dynamic of Nevermind.
Dave Grohl recounts the first time he heard Pearl Jam in Twenty: "I got in my van to drive down to the 7 Eleven and I heard Alive on the radio ... it sounded like classic rock 'n' roll to me. It didn't sound punk rock to me. That was just before Nevermind came out. And it was just before everything blew up."
Grunge success: Grunge had been around for years already, but it became a worldwide cultural phenomenon following the success of Nirvana and Pearl Jam, and the increasing popularity of Soundgarden and Alice in Chains. In Pearl Jam, Vedder was the focus of the band's newfound success, which, similar to Kurt Cobain, doesn't sit well with him. Vedder and his bandmates, who are the major label stars of the grunge era, rebelled by shunning the media, not playing by traditional record industry rules and refusing to make videos.
Rivalry: It's fair to say the Pearl Jam versus Nirvana battle for grunge band supremacy was won by the latter. Although in the US, Ten went on to out-sell Nevermind. Cobain fuelled some of the rivalry between the two bands with taunts about PJ being sell-outs and not legitimately "alternative".
But in Twenty Vedder sees things a little differently: "So much bullshit was being written about us [he and Cobain]. We ended up talking a few times. This one time [at the 1992 MTV Video Music Awards] he told me flat out ... the respect he had for me. We were going through so much of the same shit. If only we'd talked, maybe we could have helped each other."
Stage diving: Early on Vedder got a reputation for his wild stage-diving and his habit of scaling the walls and rafters of concert venues. However, he very nearly came unstuck when he climbed 30m above the floor of San Diego's Del Mar Pavilion in December, 1991, during a sprawling, live version of Porch. Not that it put him off doing it in the future.
Vs. Ticketmaster: The follow-up to Ten is appropriately called Vs. because in 1993 Pearl Jam took Ticketmaster to task over the cost of concert tickets. The band wanted to keep tickets for their 1994 Vs. tour to under $20 but Ticketmaster insist a service fee be added, taking it over the threshold. The stoush, and subsequent boycott of Ticketmaster by the band, went on for many years with Gossard and Ament testifying before Congress about Ticketmaster's business practices.
NZ connection: March 24-25, 1995, Mt Smart Supertop
Neil and Tim Finn played I Got You and History Never Repeats in Pearl Jam's encore during the tour for third album, Vitalogy. It was an album recorded amid simmering tensions between band members and resulted in drummer Dave Abbruzzese being fired.
While in New Zealand Vedder stayed at Neil's house and was rescued by lifeguards after being caught in a rip while swimming with Tim.
"Eddie is a very charming guy but he was quite stressed-out in those days," remembers Neil Finn in Twenty. "After the first show Eddie came home with us. Once he got to the house he was very relaxed and funny. I think it was a burden for him back then, that instant fame."
In 2001, Vedder was also part of the 7 Worlds Collide concert series at the St James by a Neil Finn-led supergroup. The Herald review said: "[Vedder] opened with a surprisingly sensitive version of old Split Enz ballad Stuff and Nonsense and later fronted surprise guests betchadupa - the band of Neil Finn's son, Liam - on a stonking version of History Never Repeats.
In November 2009, Pearl Jam played to a crowd of 32,000 at Mt Smart Stadium. Said the Herald reviewer: "Even if they don't have the danger and rawness they had in the early 90s they remain one of the great American rock bands."
Roskilde: June 30, 2000, Roskilde Festival, Denmark
Nine people were killed and 30 injured in a crowd surge during Pearl Jam's headlining set. "I just wanted to get out of there. I just didn't want it to be true. It was happening right in front of us but I just didn't want it to be true," says Vedder in Twenty. The band were initially blamed, with Vedder's stage antics seen as encouraging crowds to mosh and crowd surf, but they were later cleared of any liability. The incident resulted in more stringent safety practices at concerts and festivals around the world.
Recent reviews: With 10th studio album, Lightning Bolt, due out in October, Pearl Jam recently debuted new songs at a concert at Wrigley Field in Vedder's hometown of Chicago.
Rolling Stone wrote: "The band kicked off their seven-song encore with another new cut, the slow-burning acoustic charmer Future Days, [but] it was the set-list rarities and unexpected gems that highlighted an evening designed with diehards in mind."
Without Pearl Jam: We wouldn't have er, Nickelback, Creed, and Bush. Which is not a great start but then there are others such as Incubus, Silverchair and Deftones - and even the likes of the Strokes and the Foo Fighters who all took some influence from the band.
What: The Big Day Out
Where and when: Western Springs, Friday January 17
Follow @nzherald_ent on Twitter for all the latest entertainment news.
- TimeOut