Families are TV favourites, says Nick Grant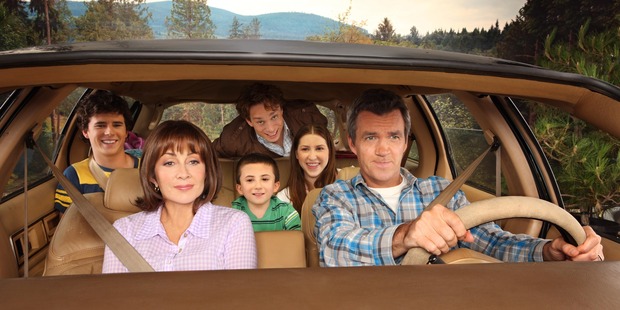 I vividly remember the moment in my youth it dawned on me The Cosby Show wasn't an accurate reflection of life in general and family life in particular.
Problems, I realised with a sinking feeling, don't pop up then get resolved in the space of 30 minutes (including commercials) thanks to the wise but funny intervention of a guy wearing a garish jersey.
Of course, Cosby didn't create the form of sitcom in which intrusions from the outside world briefly cause a ripple amongst the central family unit, before everything returns to idyllic normalcy for the final credits roll - it was just the latest of a long line of such shows, with forebears including Father Knows Best and Leave it to Beaver. But boy, did it have an impact in its time.
Running from 1984 to 1992, Cosby was a social phenomenon - believe it or not, ministers were known to extol its virtues from the pulpit, going so far as to suggest watching the show was the next best thing to attending church as far as moral guidance went.
I personally rejected it as a realistic roadmap, coming to see Cosby and shows of its ilk as insidiously creating false expectations that inevitably led to disappointment when one's experience didn't live up to these impossible fantasies of household harmony (it's that very quality, it's worth noting, that makes such shows perfect for surrounding with commercials that promise to give your circumstances a soft focus makeover, if only you'd buy this particular brand of car, burger, catfood).
In the 21 years since Cosby's Huxtable family departed prime time, many (although certainly not all) sitcoms have adopted a much more realistic, even cynical, view of the dynamics of domesticity and the wider world.
Indeed, it was in reaction to Cosby's sugar-coated unreality that the creators of Seinfeld decreed there'd be no learning and no hugging on their series.
While the show featured a group of nihilistic friends, a cohort of family-based comedies that rejected the smug certainties of The Cosby Show also emerged, including Roseanne, Everyone Loves Raymond (a not-so-subtly subversive series written off as Cosby-lite'n'white by those who didn't watch it), Everyone Hates Chris, and Malcolm in the Middle.
The Middle, which makes a welcome return this Monday, belongs to that lineage of shows, which accept the frayed and fractious nature of family ties as quite normal while simultaneously celebrating them.
If you've never watched it, it's well worth a look. About the struggling Midwestern middle class Heck family, the role of wife and mother Frankie is played by Patricia Heaton, who occupied the same position in Raymond, and husband/father Mike is played by Neil Flynn, best known as Scrubs' eternally put-upon janitor.

They're great as barely-holding-it-together parents and the young actors who play the three kids are all terrific too.
The characters are sharply drawn enough that you'll quickly understand the rhythm of this family's life if it's your first encounter with them.
Although the humour often veers towards the zany, like so many American sitcoms, it's strongly enough rooted in emotional truth that it remains recognisably human.
In the hour-long, season four premiere, Frankie becomes obsessed with winning the position of preferred parent. Bittersweet comedy ensues.


• The new series of The Middle starts tomorrow, 7.30pm, on TV2.