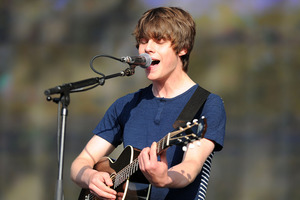 Well he was never going to be on stage for long. With one album and an EP to his name, feted young English singer-songwriter Jake Bugg - a teenager with seemingly baby boomer reference points for his retro folky rock'n'roll - was hardly a marathon concert prospect.
For one thing, some of his tunes are on the short side. Fire, the jaunty calypso-folk tune which closes his album but opened his Auckland show barely stretched to the two minute mark.
So that Bugg and two-piece band delivered an engaging hour-long set was an achievement in itself. The only padding was an economical if mild-mannered cover of Neil Young's Hey Hey My My in the encore before the inevitable finale of Lighting Bolt - the hit which has become a sports drink campaign jingle and probably helped pay for all those guitars of his.
And while the 15 or so songs in Bugg's set ticked off the big tunes from his-self titled 2012 debut album, there was room too for a couple of new ones, providing proof that there's plenty more where that first batch came from.
Even if one song seemed to show his 1950s/60s influences extends to a song with a tune that borrowed a bit of melody from You're The One That I Want from Grease.
Otherwise, it was a show that showed what must have been Bugg's early appeal. His combination of adenoidal olde world voice, rustic twang songs and sharp lyrics (which are more akin to Arctic Monkey Alex Turner, than "the new Dylan" tag he's got) was certainly impressive. Especially when you added in the live evidence of his guitar skills, whether he was pulling off muscular acoustic finger-pickin' things on the likes of Saffron or twangy Duane Eddy solos on Taste It.
True, he wasn't a big talker between the songs and despite the rumbling rhythms beneath a fair number of his songs, Bugg was from the impassive British school of rock showmanship - the less the you move, the cooler you look. Or possibly in the shift from Nottingham council estate to Brit breakthrough act, he's still a bit shy.
So no, no great audience connection was made and early on, it felt like a going-though-the-motions sort of performance, eventually rectified by a setlist light on filler and the raised energy levels towards the end.
Still, the sold-out Powerstation audience still raised a cigarette lighter or two to the likes of big ballad Broken and its grandly Orbison-esque chorus and whooped it up to the likes of Lighting Bolt and Two Fingers.
Bugg wasn't the only precocious talent on show. Local support act Jesse Sheehan and band show the one-time Rockquest winner has gone from acoustic singer-songwriter to ambitious electric eclectic artpop.
His tunes won't be appearing as jingles for electrolyte-restoration fluids any time soon, but his short set delivered plenty of mad chemistry and fizz nonetheless.
Jake Bugg, Jesse Sheehan
Where: The Powerstation, Auckland
When: Tuesday, July 30