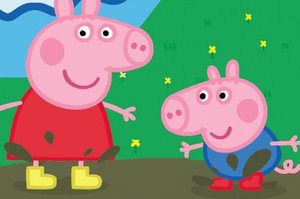 Peppa Pig and Bob the Builder have joined the likes of Grange Hill, Play School and Jackanory in a list of the greatest British children's TV shows.
Horrible Histories, Wallace & Gromit and The Story Of Tracy Beaker are some of the more recent creations that have made it on to the 20-strong longlist.
Programs remembered by previous generations include The Magic Roundabout, Tiswas, Record Breakers and Thunderbirds, which is set to return with a new series in 2015.
Shows on the longlist enjoyed by today's viewers include Blue Peter, which is the world's longest-running children's TV program, Bob The Builder, Peppa Pig and In The Night Garden.
The list has been compiled by staff at the Radio Times magazine. The winner will be chosen by the magazine's readers.
LIST OF TOP 20 BRITISH CHILDREN'S SHOWS
* Bill And Ben (Flower Pot Men)
* Blue Peter
* Bob The builder
* Clangers
* Grange Hill
* Horrible Histories
* In The Night Garden
* Jackanory
* The Magic Roundabout
* Mr Benn
* Multi-Coloured Swap Shop
* Peppa Pig
* Play School
* Record Breakers
* The Sarah Jane Adventures
* The Story Of Tracy Beaker
* Teletubbies
* Thunderbirds
* Tiswas
* Wallace & Gromit
- AAP