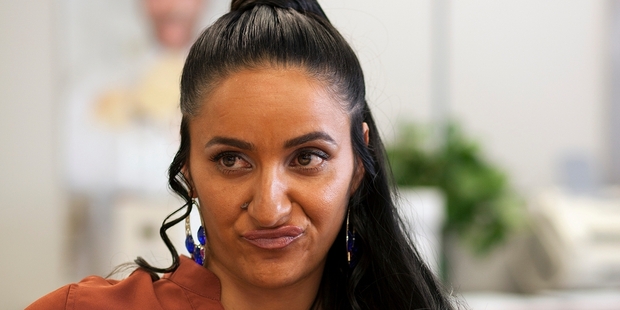 It was the late, great, bug-eyed British comic Marty Feldman who so sagely observed, "Comedy, like sodomy, is an unnatural act".
For proof of that you could catch Super City II on TV3, where the local laughs seem to live.
The show's a hoot (mostly) and it's about as natural as you'd expect with one woman playing all four lead roles - two of them male, and one of those suffering grievously under awful make-up.
Madeleine Sami plays a broad range of characters, each of them strictly two-dimensional, but that's how it goes with wham-bam satire.
Super City (10pm, Friday) is also edgy and maybe darker than it means to be, but that's good.
Risks need to be taken in TV's bland land of homemade laughter.
With Oscar Kightley now directing - and co-writing with Sami and Thomas Sainsbury - the series has acquired some below-the-belt punch.
It's even reckless enough to turn nasty, mainly when Sami's playing Ofa, a savage welfare case manager who, just for instance, tells an unemployed wheelchair-bound client: "If you can wipe your arse, you can wash dishes."
Super City is a simple sort of show, jumping, skit-like, between Sami's four characters, though it must be said that she does a better woman than she does a man.
Playing Ray, a crusty pommy panelbeater, Sami slips into old-fashioned caricature, though Ray's wife lifts the fun factor, being a lady bodybuilder of cliff-like proportions and man-like demeanour.
In the first episode, Ray failed to save the day with his spray-on tan at the wife's bodybuilding contest. It was a Benny Hill moment, on steroids. Quite disturbing.
Though not as disturbing as Sami's other female character, Mary, a tone-deaf down-and-dirty cabaret singer who'll do anything to get a gig for her act, Mary and Her Mick (the keyboard player's name).
Playing Levi, a fey and fumbling footie player, Sami's on muddier ground, though, fumbling for laughs as much as her character fumbles for the ball.
Still, the show - a tight half-hour - has loads of promise along with plenty of comedic courage, a fair whack of which delivers laughs. A strong supporting cast helps too, though the star of every moment is the astonishing Madeleine Sami.
At her most astonishing perhaps, last Friday, as Ofa, sorting out a stroppy client with a staple gun.
On the subject of such things, it's the gunning of car engines that remains the attraction with a new series of the British car show Top Gear (Prime, 7.30pm, Sunday).
The added pull of Sunday's first episode was a race sequence set in New Zealand and involving just as much insanity as we've come to expect from this big-budget funfest.
Somehow, across its now-20 series, Top Gear has become an epic sort of comedy.
Presented with hoonish delight by Jeremy Clarkson and his sidekicks, eager little Richard Hammond and James May, the wary and slightly wise one; no one's ever allowed to be more than slightly wise on Top Gear.
That must be how May found himself clinging, wave-battered, to a huge racing yacht off the upper east coast of our North Island, while Clarkson booted a beleaguered rental Corolla from the Coromandel to North Cape to see who'd get there first for no particular reason other than the landscape - beautifully filmed - and the sheer boyish hell of it.
It was a marginal win to May, but he suffered for it. Elsewhere on the first episode, there was a racy mix of car racing, often involving British celebrities, including the lead singer from AC/DC, Joss Stone, who Hammond fancied, and a posh lady presenter who Clarkson fancied.
And, yes, some cars did die in the making of the show.